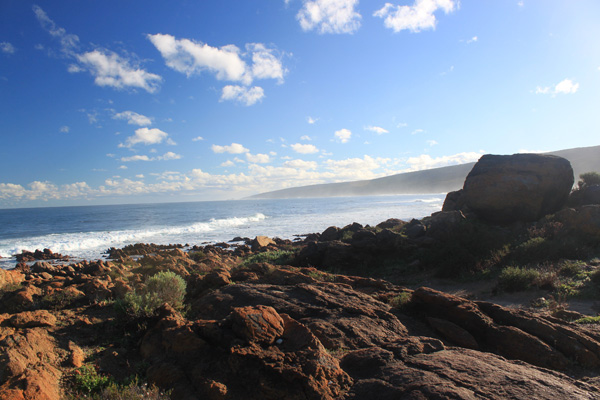 Yallingup Beach, Margaret River region, south-western Western Australia
You can't judge a wine by its label, let alone name. Right?
At first glance, one of the eyebrow-raising things about the wineries we drove past in Western Australia's prestigious Margaret River region were a run of quirky names adorning their entrances. What on earth were they thinking was my first thought?
Everyone knows that the looks of a bottle of wine, as in the design of the label, can be a big turn off for some sectors of the market. Does the same apply to the name of the wine or winery in question?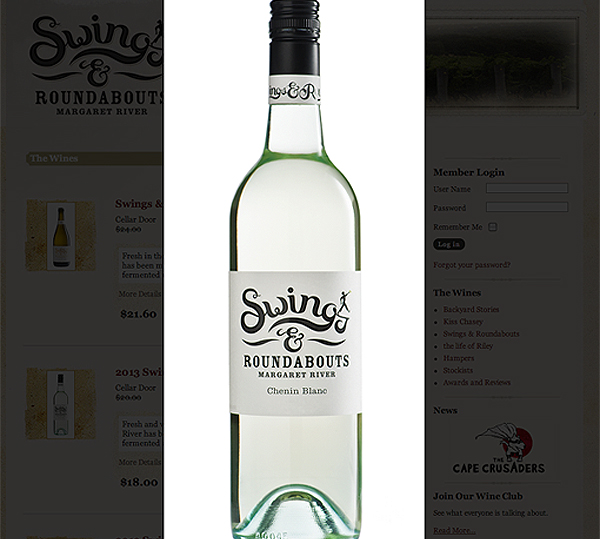 Why, for example, would you name a winery 'Swings and Roundabouts' or 'Kerfuffle, both of which suggest that the making of the wine in question is somewhat hit or miss, haphazard or mistake-ridden?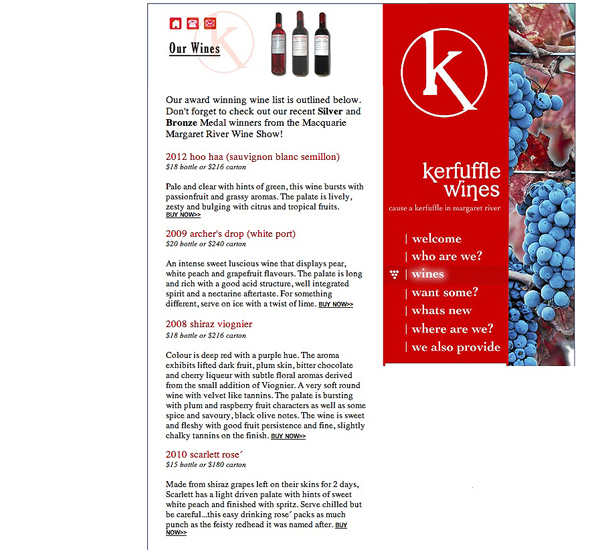 And how many 'cold calling' wine buyers, faced with a huge selection of bottles, would be immediately drawn to a wine made by a company called Skuttlebutt? By association, in buying such a bottle, are you not giving your vote to falsehoods, innuendo and supposition. Not necessarily as I was to discover.
Furthermore, what were the winemakers thinking when they came up with Bonking Frog wines? Was this a dip of the lid to French winemaking while equating the wine's consumption with successful sexual congress? How wrong I was.
And then there were names that suggest any country other than Australia. Patriot that I am, on principle, for example, I would be reluctant to buy a wine named Howling Wolves because it frankly sounds un-Australian. Howling Dingo or Howling Devil, possibly, but wolf in the wolf-free great southern land? I won't go there was my first reaction.
It was only after googling the websites of the above wineries and reading up on their 'what's in a name' rationale that I got a better understanding of the logic behind their names.
As Swings and Roundabouts explains, 'Our name comes from the expression used to encapsulate the eternal balancing act between the various aspects of grape and wine production.'
And the Bonking Frog name I discovered comes from the Western Banjo Frog that 'leaps about in the vineyard'. As the owners attest: 'These frogs belie their fragile nature to survive our harsh Australian climate with gusto. Their spirited determination is therefore wonderful inspiration for our name, our label and our objectives'. Quite!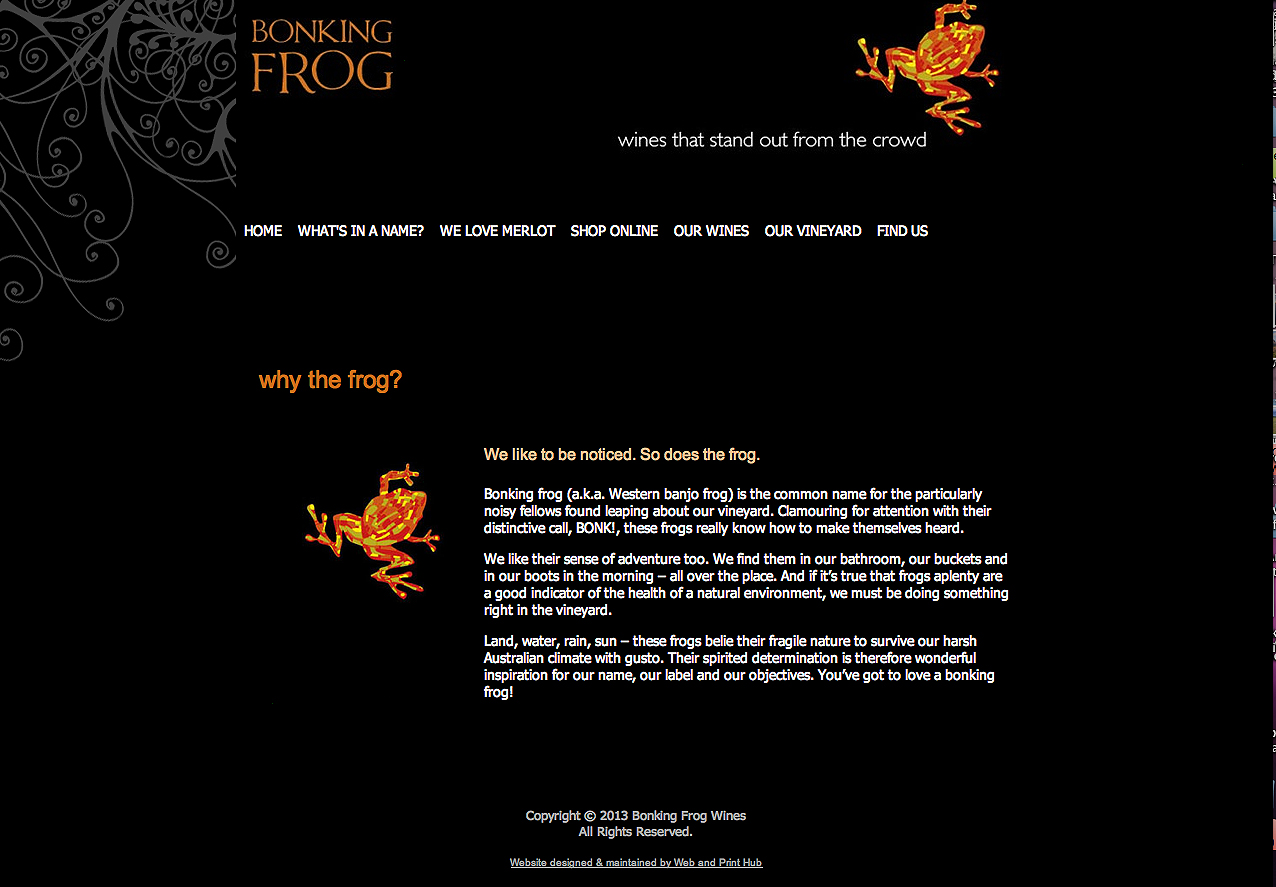 Skuttlebutt's website explains that 'the word skuttlebutt has its origin in the antiquated, nautical term for the source of drinking water on sea-going vessels. It has evolved into the colloquial term for gossip, rumour and idle chatter?' Hence the name makes perfect sense.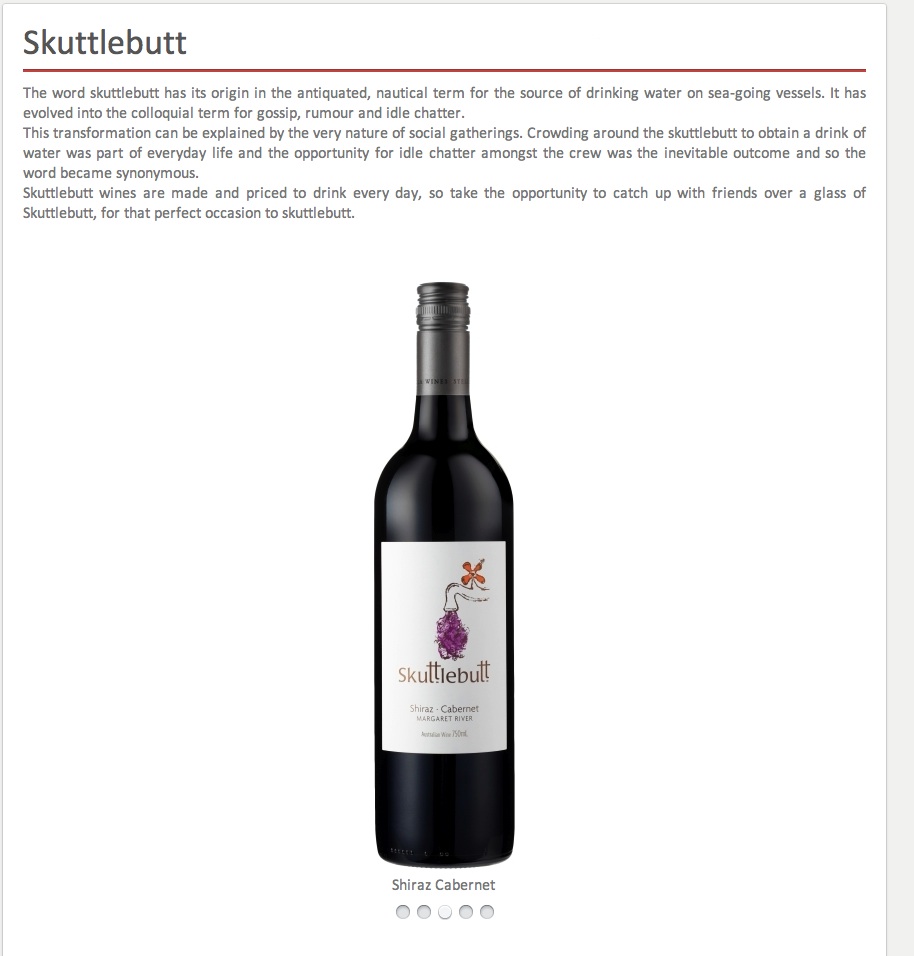 Website explanations are all very well, but surely first impressions created by the wine's name and its label, matter to the rank outsider. Isn't this crucial partnership a key factor that may sway the choices of the less educated wine drinker in particular in an overcrowded marketplace?
No doubt there's a method to the madness of naming wines, backed up by focus group responses from key target audeinces. Thus said, the most effective names for wineries are presumably middle of the road 'offend no-one' type of names. In the same way that if you're 'make overing' a house to maximize its sale price, you go for a neutral colour scheme in an effort to appeal to the broadest spectrum of potential buyers.
Or am I barking up the wrong tree here?