Assistant Supercargo takes to the South Seas
In the early years of the 'Great War' (World War I) my maternal grandfather threw in his desk job at a Sydney-based import-export company and took to the high seas. He was 21-years-old when he entered into an agreement with Burns Philp and Company for the salary of eight pounds per month, a pay cut from his $3 pounds a week salary as a book keeper.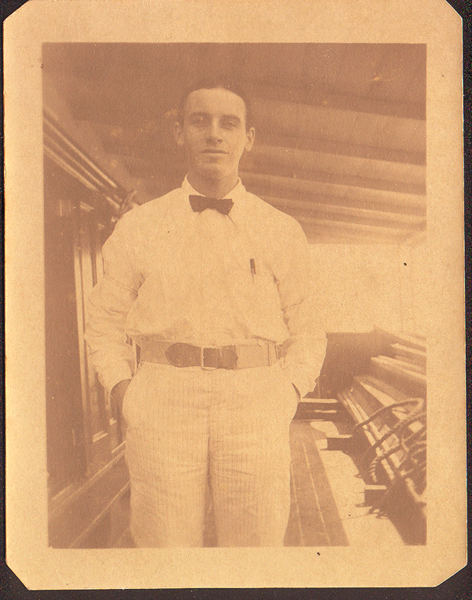 A satorial John Halliday posing on shipboard
His letter of agreement described his role as an 'Assistant Supercargo, Purser or Clerk on any of the Employer's ships or on shore' and that he was 'to make himself generally useful in the New Hebrides, Gilbert, Ellice, Marshall or Solomon Islands or Papua.'
My grandfather's decision to diversify his clerical import-export career was unsurprising. After all, his Scottish born father was a highly experienced sea captain who had relocated his family to Australia around 1902.
As John Halliday documented at the age of 60 in 1953:
It is just fifty years since I landed in Sydney from the White Star liner Runic, with my mother, two brothers and two sisters to join my father, who two years earlier had as captain arrived with a ship which his Scottish company had sold to Australian owners.
He liked the country and the climate and stayed on but had to accept a reduction in rank in the new company, so finances were somewhat restricted and our house was a modest one in an unfashionable but respectable suburb.
Ten kilometres from the Sydney General Post Office (GPO), the unfashionable suburb of Abbotsford referred to by my grandfather fronted onto the Parramatta River. It was therefore hardly surprising that John Halliday and his younger brothers took advantage of their waterside locality, swimming, sailing and building boats.
But there was another reason for John Halliday taking 'the offshore option' after the outbreak of World War 1. If his absence from Sydney as a junior trading officer was misconstrued as due to war service, so be it. As he wrote some 40 years later:
In the early stages, only the more adventurous types volunteered for what was thought would be a free trip to Europe and back home for Xmas. In any case, I would not have passed the stringent physical requirements. Still I was restless and when I was offered a job as a supercargo on an island trading steamer, I jumped at it and early in 1915 left in a captured German steamer for Vila in the New Hebrides via Lord Howe and Norfolk islands.
And in the technical sense he was going to war. Serving in the 'merchant navy' was well nigh equivalent to active service. That's because the enemy made no distinction between troop carriers and merchant vessels when it came to laying mines or firing barrages across bows. They were a target precisely because the cargo trading vessels carried kept soldiers and their support crews alive. [i]
Taking up an offer of a job with the Burns Philp line made perfect sense for a young Scotman whose father could easily be on speaking terms with the Scotsmen James Burns and Robert Philps who'd formed their partnership in 1883. By the end of the 1880s Burns Philp had gone offshore, with company steamers plying the trade routes between Australia, Port Moresby, New Britain, New Hebrides, Central Pacific, Fiji, Tonga, Samoa, Java and Wellington.
Starting out as merchant shippers, Burns Philp broadened their interests over the years, taking on insurance, plantation ownership and management, and eventually tourism.
Buying up plantations took much of the risk out of shipping, allowing Burns Philp to set up over time an integrated business around their steamers. No longer at the mercy of the whims of the various traders they could but guarantee a return load of a valuable crop such as copra without having to pay exorbitant prices or bribes.
According to ex-supercargo Charles Bateson, when Burns Philp first arrived on the scene, island traders were typically indebted to their owners who loaded them up with goods and forced them to sell or pay them off. Burns Philp challenged and broke into the established merchandising business.
As John Halliday explained: 'Most of the traders at that time were French, although there were a few English and an occasional German.'
So what exactly did a supercargo's job involve, not to mention his assistants? The word supercargo derives from the Spanish 'sobrecargo' and technically refers to 'a person employed on board a vessel by the owner of cargo carried on the ship. The supercargo's job of old was to buy up stocks of whatever goods he thought he could sell and to trade these for copra and other commercial trade goods, making up the difference with coinage.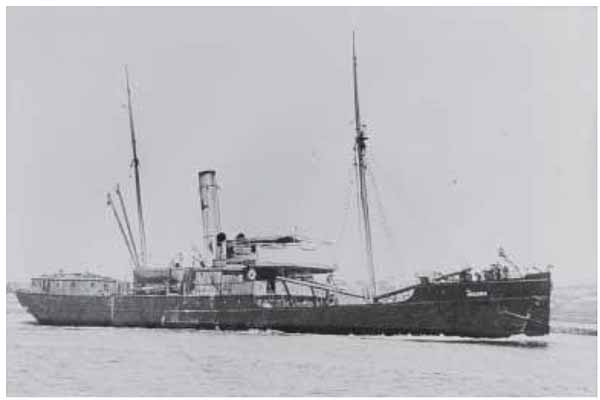 The SS Induna was 'famous for carrying Winston Churchill to freedom and later trains across the Clarence River, the 678-ton steamship Induna was built in 1891 by Hall Russell & Co, Scotland
As John Halliday documented in later life:
At Vila I transferred to a smaller vessel which had been captured by the Germans and released by the Japanese who were then our allies. The original crew were still aboard, they seldom mentioned their adventures apparently regarding their capture and release as being the normal vicissitudes of a seafaring life.
Being regarded as a sort of passenger, I messed with the captain, his two officers and the three engineers. They seemed to have no spare time recreations except for the mate, the chief engineer and the third ditto who played poker in the evening and kept a running score to be settled at the end of the voyage. The third engineer was always heavily in debt to the other two.
The ship visited innumerable little trading stations throughout the group, landing trade goods and taking on copra, beche-de-mer and occasionally sandalwood.
The copra he was referring to, a form of dried coconut was a long-term investment for planters in the New Hebrides rather than a quicker growing cash crop such as cotton. The dried 'meat', in effect the coconut kernel, was highly sought after because it could be grated, ground and boiled in water to extract commercial supplies of the multi-purpose coconut oil.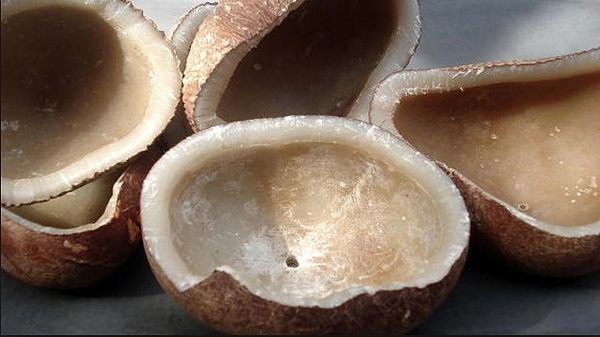 The coconuts are cut in half and dried in the sun
A 'cocoanut' plantation could take five or more years to bear fruit and up to a decade before they were continuously producing coconuts, as J. Mayne Anderson of Gundagai attested in his 1915 published What a Tourist sees in The New Hebrides:
We then went to see a cocoanut plantation, and were shown the nuts in all stages of preparation, from being gathered off the tree, next husked, the kernel being sliced for drying, then that placed in the drying kiln. A few seconds inside this place quite convinced me that more than copra - as the dried cocoanut is called - could be satisfactorily freed from moisture.
The beche-de-mer my grandfather mentioned, a sea cucumber known as 'trepang' in the Top End of Australia, was highly sought after by Indonesia's incoming Makassan trader fishermen.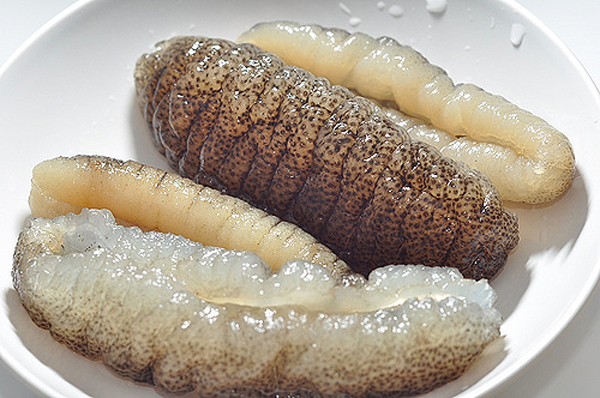 Beche-de-mer, also known as trepang and sea cucumber
Regarded as a delicacy versus a medicine in East and Southeast Asia cultures, the phallus-shaped sea slug is now sold in the Sydney Fish Market at $50 per kg.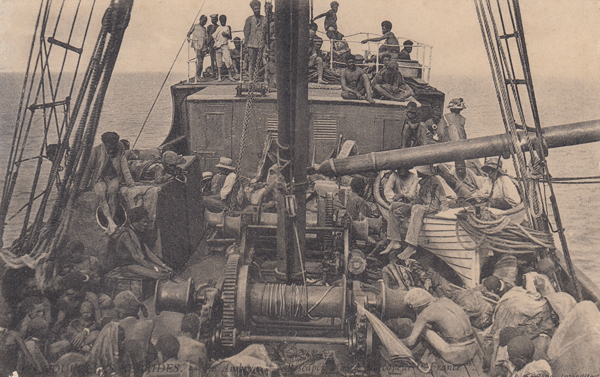 On board a trader with islanders who may be a mix of crew and inter islander passengers
As a former Burns Philp supercargo Charles Bateson documented for posterity:
We filled up like an Anthony Hordens or Harrods we carried everything - softgoods, hardware, chemistry, every possible thing which you would find in a general store we carried. It was our job, the Supercargo's job, to buy whatever we could sell, $5000 worth, $10,000 worth for the trip, and in exchange for that we had to get copra, shark fins, turtle shells, and those sort of things'. [i]
So who exactly were the intended recipients of the trading goods purchased by Burns Philp and other trading companies servicing the South Seas? By and large they were a mix of plantation managers and owners, missionaries and their families, staff running mission schools, and so-called civilized natives, as opposed to "Man Bush" types, the wild heathen inhabitants, some of whom were still practicing cannibalism.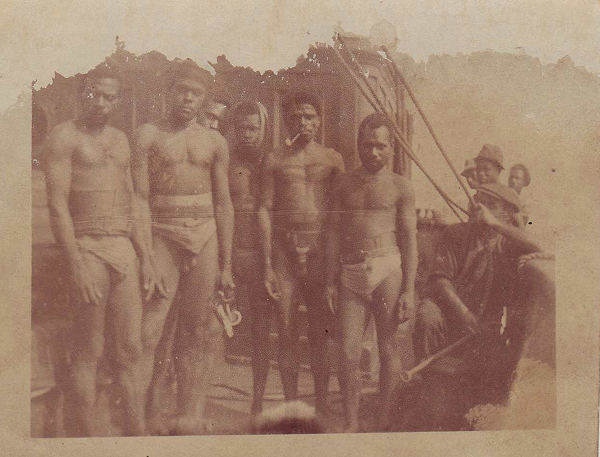 The steamers were staffed by islanders keen to improve their financial situation
According to historian Charles Bateson, there was an altruistic side to Burn Philp's endeavours.
The company staff saw themselves as doing the natives a good turn by bringing to the native peoples a range of devices which would revolutionise their old labour intense ways such as 6 and 12 inch knives, fish hooks, fishing lines, adzes, cotton. http://adb.anu.edu.au/biography/bateson-charles-henry-9452
As J. Mayne Anderson of Gundagai attested:
Perhaps it would be of interest to intending or prospective tourists to know that our ships north of Vila are floating emporiums, being able to supply you with a complete suit of clothes, boots, socks, in fact anything from a hand sewing machine to a box of chocolates, at less than Sydney process.
For the supercargoes, making a prophet was a bit like farming, as in a gamble, with profits depending on educated guesswork and the choice of goods available to isolated island settlements largely depending on the likes and dislikes of the supercargo.
A trading vessel moored on shore
So what was involved in South Sea Island trading? As described by my grandfather:
The ship would stand in as close as possible to the protective reef when the copra boats would row shorewards, wait for a suitable wave to clear the passage in the reef. At one hundred yards or so from the shore a grapnel would be dropped and the boat would ease herself in till the bow touched the sand when two boys would jump over and hold the bow steady. With a strong surf, their job was akin to holding a rearing horse and occasionally severe injuries occurred.
The native crew would then lift the platform scales ashore set them up on a suitable place and proceed to bag the copra. The planter and I would sit behind the scales, the copra would be weighed, three bags at a time.
After weighing the value would be calculated, the planter would come off to the ship and select from the trade room on deck the supplies he required, he would be paid the balance in French crowns, the currency of The Group, which was then and still is a condominium government jointly ruled by the British and French.
A photographic postcard from John Halliday's papers that captures the copra boats in action and the coconut trees lining the shore.
As John Halliday reminded, there were genuine dangers in straying from the agreed rules of engagement.
In those days a number of the islands were dangerous and we left the beach before dark in those cases. Cannibalism was still extensively practiced. The pioneer missionaries must have been brave men, and their influence in pacifying the islands cannot be over estimated.
He was well informed in this regard, with frequent references by J Mayne Anderson in his tourist guide to the uncivilized natives and sightseeing trips to old heathen villages guarded by war drums.
Postcard in John Halliday's papers, capturing an onboard shot of the 'native' crew, possibly on the SS Induna or Makambo.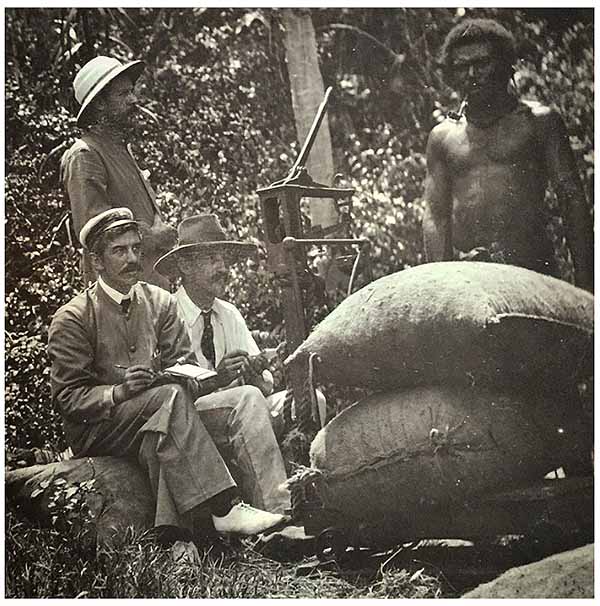 Supercargo and assistants in Port Vila, platform scales in background and bagged trade goods, probably copra, in foreground. As posted by kurucollector http://www.imgrum.net/media/1232020613836417961_1531352921
Shipboard life was an eye opener for a young man brought up in a strict Plymouth Brethren family and household.
My first night in Vila provided an experience for a youth fresh from a sheltered home. The whole crew, except the captain and the senior officers, went ashore by launch and found our way to a cafe situated on a small peninsula on Vila Harbour. The French proprietor stacked a varied supply of liquor on the table, around which we sat. We threw sufficient coins on to the table to meet the cost - fresh supplies and more coins were contributed.
We boys confined ourselves to soft drinks, which apparently were in short supply and our last glasses contained a strange mixture which tasted suspiciously alcoholic. The older members of the crew became restless and expressed their intention of exploring the native quarters with a view to meeting feminine company.
Our French host warned them against this as it was dangerous, however being alcoholically elated they went on their merry way. We younger ones said we would proceed to the launch. About an hour later, hurried footsteps were heard and they tumbled aboard all safe, but two had nasty knife gashes. We put off for our ship, our troubles were not over, we stranded on one of the numerous reefs in the harbour until daylight when the ship sent another launch to rescue us.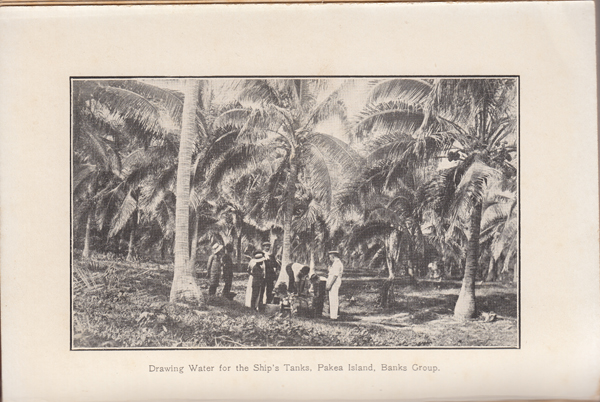 Drawing water for the ship's tanks, Pakea Island, Banks Group. Maynard
As well as documenting his memories on reaching 60, as a 21-year-old he was penning letters to a young woman in Sydney who would eventually become his wife and my grandmother. These first hand account letters furnish additional interesting detail about what life was like for a supercargo or their assistant.
On 19 May 1915 while aboard the S.S. 'Induna' he wrote to Jean:
We are now anchored off the Island of Tanna, and in a few hours will set off for our next call in a neighbouring island.
Yesterday and last night, I was ashore with the boats and about fourteen niggers getting copra, towards dusk the tide went out so we had to wait ashore till morning, the natives made fires and gathered round and wanted to be told about the "big fight" i.e. the war.
They were very interested, and sat around discussing it all night, it was a bit weird, as although they seldom touch a white man now; they still dress rather sparsely and carry bows & arrows and other weapons.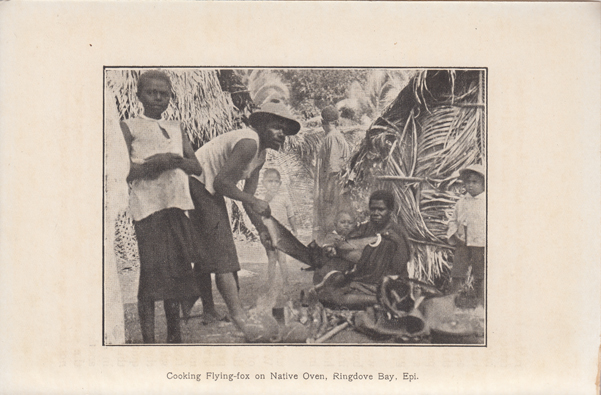 Cooking Flying-fox on native oven, Ringdove Bay, Epi
The tropical weather and conditions aside, the experience was exotic in more ways than one. As John Halliday observed, 'Among its attractions this bit of the world contains a volcano and the red glow above it was quite plain from where we were.'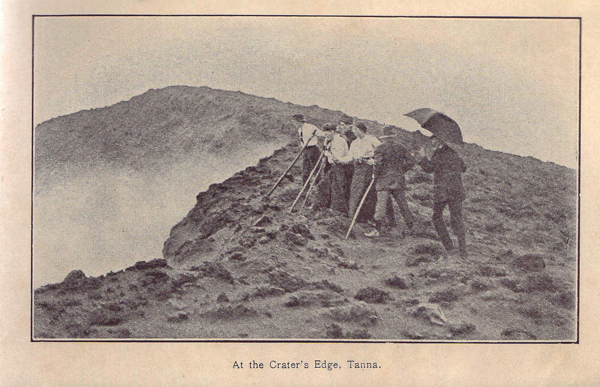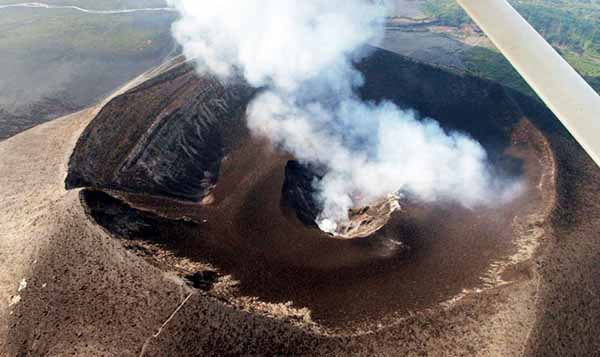 Mount Yasur
The volcano in question was Mount Yasur, the best known of Vanuatu's volcanoes and one of the most active in the world. [i]
In his memoirs John Halliday documented insights into the Banks Group of islands, one of the destinations included on
At three monthly intervals the Burns Philp steamers would visit the Banks Group to the Northward, ruled by an Englishman who had married the native queen and produced a family of twenty odd boys and girls. As my grandfather documented:
The girls were educated at a fashionable college in Sydney and must have found life back at the island somewhat frustrating. They were most attractive but unmarried when I was there. I was weighing copra with one of the sons when a bell commenced to toll, and soon the white chief appeared with a huge revolver.
Apparently someone had entered a 'taboo' coconut grove and taken a few coconuts. This was serious, there was only one penalty - death. None of the local natives do such a thing so the culprit must be one of the ship's boys and would I not point him out. Our boys said they knew about the 'taboo' and would not dare break it, so no one was shot. Afterwards it transpired that two white quartermasters, who strolled ashore, were the offenders.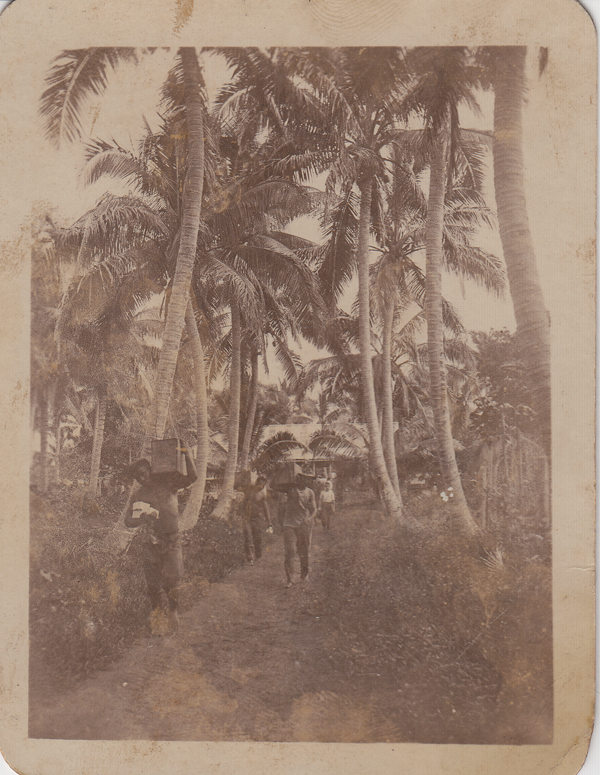 Native workers carting produce and goods towards the trading steamers
According to my grandfather, risk taking and brinkmanship of other kinds underpinned the business of trading in the South Seas. As he recalled:
Our Chief Supercargo, the owner's representative, really ran the ship. He was an old South Sea hand, a great character, a friend of R.L. Stevenson, and well known throughout the islands. He persuaded the captain who was new to the area to take a short cut between two islands. The captain hesitated as the passage was uncharted, but was eventually talked into doing so, the supercargo saying he had often been through.
I was working at the desk in a large cabin under the bridge which extended the width of the ship and unaware of all this, but was bothered by the supercargo continually pacing from port to the starboard side of the cabin.
I asked him what was wrong, he answered I have never been through here before and I am just keeping a lookout. This was typical of the casual nature of navigation in those parts at that time, charts were unreliable or unobtainable and skippers depended on their local knowledge, obtained through trial and error. Naturally the shipwreck toll was above average.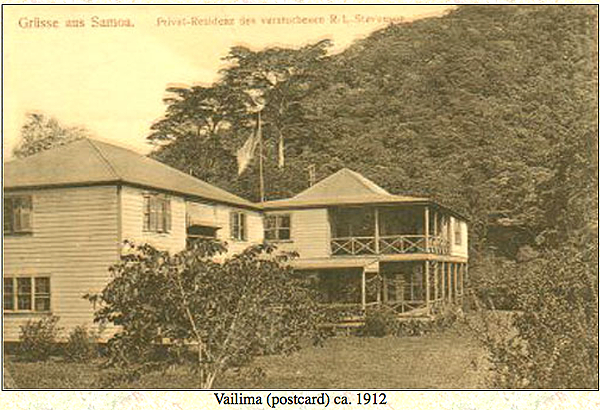 Scottish author Robert Louis Stevenson was at home in Samoa
After three months in the islands, John Halliday wrote home to his sweetheart that 'it was my turn to go to Sydney, so at Vila I transfered to the 'Makambo', an 1100 toner and quite palatial after the old 'Induna'.
The S.S. Makambo was a steamship first owned by Burns Philp & Co. Built in Port Glascow, the Scottish Halliday family's home territory, she was named after an island in the Solomon Islands. Carrying passengers and cargo she was mainly used on routes between eastern Australia and islands in Melanesia and the Tasman Sea.
Between 1910 and 1931 the SS Makambo travelled a regular route between Sydney and Vila in the New Hebrides (Vanuatu since 1980) with stops at Lord Howe Island and Norfolk Island.
S.S. Makambo, https://en.wikipedia.org/wiki/SS_Makambo
John Halliday emphasised made no bones about the strictness of the Burns Philp shipping line's management in his letter home to his wife-to-be of 6 August 1915.
Norfolk Island was mainly inhabited by descendants of the Bounty mutineers who had been transferred from Pitcairn island when their island became overcrowded. The men retained the darkish skin of their Polynesian grandmothers but the women were usually fairskinned and attractive, but their attractions were not for us. The ship anchored off and the company's agent came off by boat, a Bounty descendant. Our company was founded by Presbyterians, and the senior Directors were of the same austere persuasion, so a strict watch was kept on the morals of the junior officers. We were not allowed to drink alcoholic liquors on pain of dismissal and were certainly not allowed ashore on Norfolk Island.
Our next call was Lord Howe Island where we took the only product of the island - Kentia Palm seed. Then two days later, we entered the massive cliffs guarding Sydney Harbour.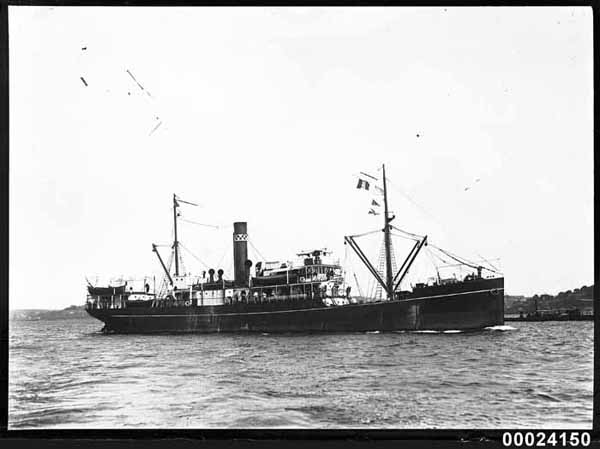 SS Makambo
On 10 September 1915, while anchored off Norfolk Island, he wrote to Jeannie McLean:
We arrived here about six this morning, but the inhabitants refused to turn out before nine, they say what's the use of hurrying there is another day tomorrow: it's a fine philosophy & maybe explains why island life is so attractive. Just outside the porthole a pig is squealing like mad; the horse in the adjoining stall has just taken a bite out of it - for fun I suppose.
While the junior officers might have been forbidden to imbibe or indulge in immoral behaviour, no such austerity applied to the ship's captain. As John Halliday documented at the time:
After reporting to the Office and being dressed down for a shortage of one box of fish, I had the remainder of the week to myself, I found the bustle of the streets disturbing after the peace of the islands and was pleased when we were on our way down the harbour a few days later. I was interrupted by the captain's steward requesting a bottle of whisky, which I gave him from a case which I kept in the cabin. The ship had no public bar, presbyterianism again, but as the company's island customers regarded whisky as essential to their way of life, there was always a good supply below hatches.
Someone had pipped on the captain and had been ordered to limit his liquor supply, but I must say he always appeared to me to be strictly sober.
Half an hour later as we cleared the heads, the steward appeared again for another bottle of whisky. This was awkward as my orders were one bottle between Sydney and Lord Howe, and one bottle between L.H. and Norfolk and two bottles between Norfolk and Vila.
So I was sorry but couldn't supply. Back came the steward and I was paraded before the captain. His cabin was crowded with passengers whom he was entertaining. I asked to speak to him privately and explained the situation.
He took it rather well, seemed amused, sent me back to my cabin. A few minutes later the steward again appeared with an order signed by a passenger. He never went short after that and orders were duly carried out.