Shearing the Rams, Tom Roberts, National Gallery of Victoria
At a recent Tom Roberts exhibition at Canberra's National Gallery of Australia, one of the highlights of the blockbuster was the 1890 Shearing the Rams.
For older generations of Australians, the enduring appeal of this iconic painting perhaps reflects a pent up nostalgia for the time when Australia was widely described as 'riding on the sheep's back'.
And why not! So lucrative was the 'golden fleece' in the century stretching from 1850 to 1950 that Australians enjoyed one of the highest living standards in the world.
The Brocklesby shearing shed burnt down in the mid 1960s. Private collection http://www.artistsfootsteps.com/html/Roberts_corowa.htm
The shearing shed that Tom Roberts returned to numerous times, travelling by train to Corowa (400 km west of Canberra) serviced the "Brocklesby" sheep station in NSW's Riverina agricultural region.
Like many shearing sheds scattered throughout the eastern states, Robert's favourite shed was constructed of corrugated iron and timber.
While Brocklesby Station's shed burned down in the mid 1960s, there are similarities between Robert's muse and the 26 stand Kinchega Woolshed on the Darling River south-west of Menindee NSW.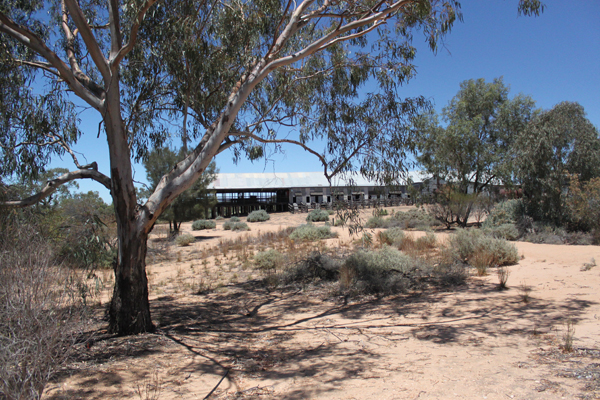 Kinchega Woolshed, Kinchega National Park, south-west of Menindee, constructed in 1875
But for sheer size, NSW's Brocklesby and Kinchega woolsheds were dwarfed by the Old Errowanbang Woolshed, a sprawling 'organically grown' 40 stand shearing shed still standing near Carcoar in the Central West of NSW.
Old Errowanbang Woolshed, one of the largest in Central West of NSW
But even Old Errowanbang was chicken feed, size wise, compared to the massive Tinnenburra Station shearing shed in Queensland.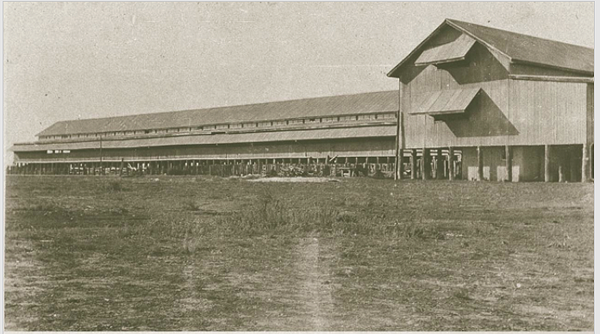 In 1900, Tinnenburra Station's woolshed was regarded as the largest shearing shed in Australia.
Touted by some as Australia's largest shearing shed in 1900, Tinnenburra Station's shearing shed near Cunnamulla in Queensland boasted 101 shearer's stalls, making it truly a colossal edifice. Constructed of the trunks of local trees and a corrugated iron roof, the gigantic shed was demolished in 1951.
But not all eastern states' woolsheds rely on 'wrinkly tin' and wood to keep the shearers and sheep dry and out of the sun. Across a 'wide brown land' that's 4,000 km wide and 3,860 km long, Australia's regional diversity throws up some unexpected variations on the theme, especially for travellers who hail from the eastern states.
Take South Australia's Cordillo Downs Station Woolshed that relied on local country rock for its structural integrity. Constructed around 1883, the barrel-roofed structure Cordillo was built to accommodate 120 shearers at a time, clearly surpassing the 101 stand Tinnenburra Woolshed.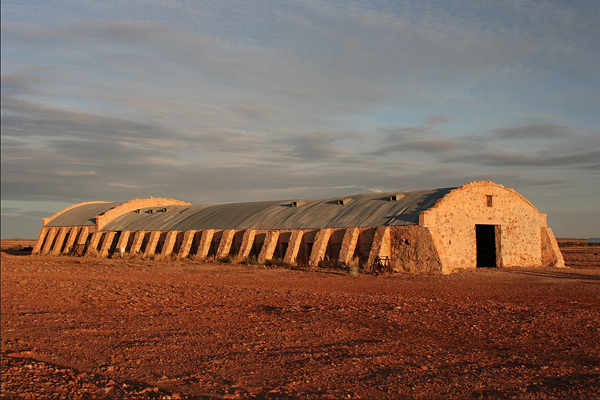 Cordillo Downs Woolshed, 116 kilometres north of Innamincka and 155 kilometres south east of Birdsville, South Australia.
In general, South Australia's woolsheds are much more likely to rely on local country rock and wood than the likes of tin and timber.
One such is the Artimore Station woolshed North of Blinman in the Flinders Ranges, the side walls were constructed of the trunks of local Callitris Pines while the end walls featured local country rock that was, and remains, so readily to hand.
Following the abandonment of Artimore Station in 1903, the stone woolshed descended into ruins.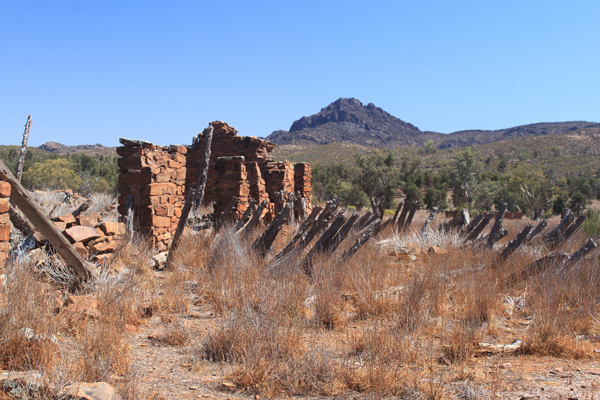 Artimore Station Woolshed ruins
Artimore Station Woolshed in the 1800s
Stone sheds aside, QLD's Jondaryan Woolshed near Toowoomba promotes itself today as the oldest and largest operating woolshed in Australia. A sizeable shed at 52 shearers' stands, its claim to fame is surely that it is still operational, unlike the Cordillo Downs shearing shed that is now used for machine storage.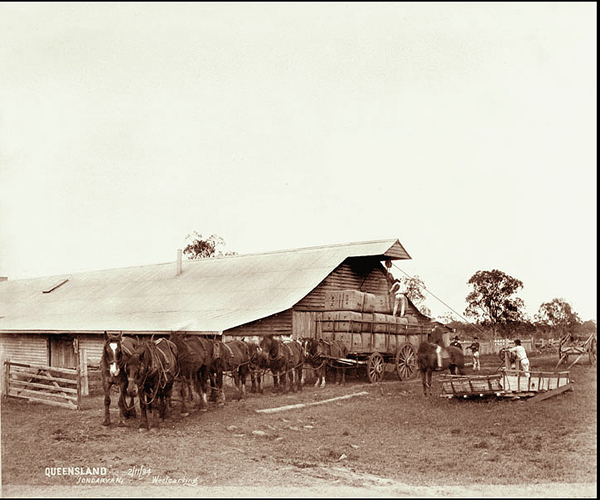 Jondaryan Woolshed near Toowomba was reconstructed after a fire destroyed the original shearing shed in 1859