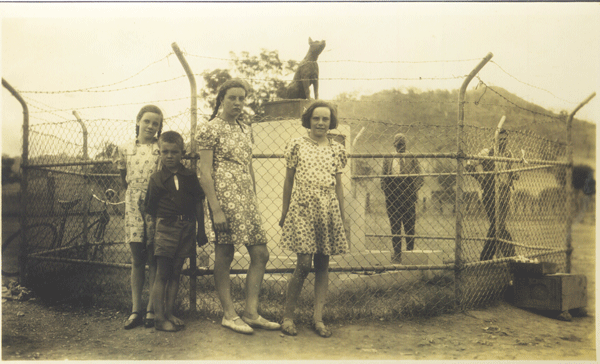 The Halliday family of Killara NSW were early tourists to the Dog on the Tucker Box tribute statue constructed five miles north of the little township of Gundagai on the Hume Highway. Left to right Joan, Malcolm, Margaret and Betty.
Arguably the most famous doggie statue in Australia, the iconic tourist attraction was unveiled by Joe Lyons in 1932, according to 'history's page'. In this photo, taken around 1936 or 1937, a combination of wire mesh and barbed wire separate the statue from closer contact with its admirers.
Was this to prevent the odd troublemaker vandalising the loyal dog? Or was it fenced to stop people filching coins tossed into the surrounding 'wishing well' pool set up to help fund the Gundagai Hospital. The latter makes sense since Australia was in the grip of the Great Depression in the early 1930s.
In the early 1930s photo below, posted on The Dog on the Tuckerbox website, the statue adjacent to the Hume Highway is similarly fenced.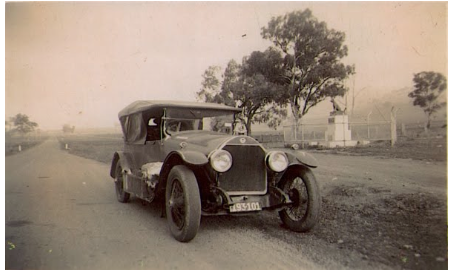 Gimmicky though it may be, The Dog on the Tuckerbox has been an enduring tourist bonanza for the food outlets and other stores that have opened up over the years in its proximity.
The first kiosk set up to harness the passing tourist trade opened its doors in 1933, with the owner routinely posing her own dog on a spare tuckerbox in front of her premises and charging tourists to have their photo taken with the said canine.
The Dog on the Tucker Box 'installation' photographed in September 2015
The most endearingly quaint aspect, albeit oldfashioned, of the Dog on the Tucker Box is that it is LIFESIZED, as opposed to OUTSIZED.
Does that matter either way?
Just how successful are the 'shouty' big and bigger constructions built by local councils throughout Australia in an effort to boost local tourism?
Think the Big Potato (Robertson, NSW), the Big Prawn, the Big Pineapple and the Big Trout (Adaminaby) gargantuan edifices, to name a few, constructed to attract, and hopefully waylay, tourists to spend more in this or that town.
The most successful of these is surely Goulburn's Big Merino. Giggly as it is to enter via the merino's 'back passage', it remains an impressive and life like installation.
Hot off the press, the township of Nyngan's five metre high Big Bogan statue was launched in mid September 2015. And for the very first time, in Australia at least, we have a human Big Thing.
And the Big Bogan's tuckerbox happens to be a self-monogramed esky like container!