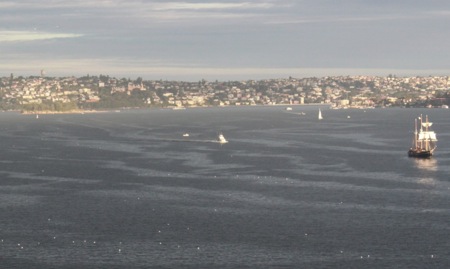 A tall ship under sail on Sydney Harbour, the kind of transport that brought convicts and immigrants to Australia in the late 18th and 19th centuries.
Has it only been four and a half years since a controversial Sydney-based cleric informed the Egyptian news program Cairo Today that the Anglo-Saxons arrived in Australia in shackles whereas his followers had more rights since they'd paid their way and come of their own free will? Likewise, the voluble Barmy Army delight in casting aspersions on the Australian character with their 'We came here with backpacks, you with ball and chain' chants not long after. In response the bemused Prime Minister of the day, one John Howard, reminded that, 'It will bring a wry smile to the face of many Australians who sort of don't actually feel the least bit offended that many of our ancestors came here as convicts'.
The word many is my question. Is it really a fair thing to continue to assert that many of us, as in a significant majority of living Australians, have a convict in their closet? Surely it is time to question the role that convict ancestry actually plays in the role of contemporary Australia, and whether our non-law abiding roots are unnecessarily overstated for misplaced jingoistic reasons.
Few dispute that pre the 1960s it was not the 'done thing' in Australia to admit to convict blood, despite the passage of years. But leading up to the 200th anniversary of British 'settlement' in 1988, owning up to light-fingered forbears morphed from a stain of dishonour to a badge of pride. If not exactly a claim to fame, it became a brush with infamy.
So just how many convicts were shipped out to Australia?
For the record, 163,021 were despatched down under, with around 50 per cent (over 78,000) of those arriving in NSW between 1788 and 1840, on an average of 1500 per year.
But just as 'one swallow does not a summer make', the fact that some of Australia's states started out as penal colony does not exactly make Australia an on-going dynasty of 'connies'. Eight or so generations after the east coast of Australia was 'settled' by the British, to suggest that many Australians are the product of convict stock is not only an old-fashioned non-inclusive simplification but patently incorrect.
Could it also not be perceived as an irrelevancy at best, in particular by the 'respectable' citizens of South Australia and the Northern Territory, the non-penal colonies that subsequently became home to small numbers of relocating ex convicts all those decades ago?
Let's get something straight. Undeniably convicts far outnumbered free 'settlers' on day one. Of the 1,035 Europeans who survived the 24,000 kilometre 252 day journey, over 71 per cent (736) were felons. But after the transportation of convicts to NSW ended in 1840, the demographics changed dramatically as the numbers of immigrants arriving of their own free will increased.
By 1851 about three in 10 colonial males had been transported. But for the 1851-1860 period as a whole, under two per cent of the estimated population of 613,660 were classified as convicts.
What triggered such a dramatic dilution? In one word, gold. In 1851 the discovery of this precious metal converted the Bathurst region into 'one vast gold-field.' The first waves of European immigrants included adventure seeking types who swarmed to Australia's scatter gun of gold rushes, lured by the prospect of getting rich quick and moving upwards into a down under style 'aristocracy'—known as the nouveau riche.
By the late 1850s, 70 years after the British flag was hoisted up a flagpole at Sydney Cove, the continent's population had reached one million, not counting the First Australians, who continued to be overlooked and uncounted.
So where does all this leave us when it comes to the word 'many'?
In case you've missed it, we no longer have any excuse for generalities when it comes to the significance of our convict past. Based on a comprehensive online collection of convict transit records from family history sites released mid 2007, an estimated four million Australians are related to convicts deported from Britain to Australia in the 18th and 19th centuries.
Only four million related to convicts? With Australia's population just over 22 million in 2010, around 18 per cent is a long way short of a majority, let alone John Howard's 'many'. Especially when you consider the ever increasing dilution factor.
So here's the nub of my argument. Those who denigrate Australians as 'cons' or 'connies' are in need of a good history lesson. Equally so are those who overstate and bestow erstwhile celebrity status on fleets of petty criminals, around 60 per cent of whom were apparently repeat offenders. By far the majority of our immigrants, the First Australians included, have been in exactly the same boat as said sheik's flock, not to mention British backpackers and cricketing fans: free spirited types, far-sighted and/or desperate enough to see the benefits of relocating to a more promising destination and society.
From the 1850s, wave after wave of displaced or disaffected peoples weighed up the pros and cons of emigrating to one of the 'New World' countries of the United States, Canada, New Zealand, South Africa, and of course, Australia. As Robert Hughes reminds in The Fatal Shore, 'the vast majority of European Australians are the descendants either of Anglo-Irish-Scots who arrived after 1850, or of Greeks, Italians, Hungarians, Balts, Poles and Germans who emigrated after 1945'. Two decades later, without being exhaustive, we can expand his summation to include people of Vietnamese, Korean, Japanese, Indian, Lebanese, Turkish and Chinese descent.
And contrary to that cliché of convicts being routinely chained or shackled, most 'served a few years of their sentence in assignment to a free settler or in Government labour, never wore chains, got their tickets-of-leave and in due course were absorbed into colonial society as free citizens' by Hughes' reckoning.
While we are on the subject, though it is rarely mentioned, the Australian colonies were not the only ones to benefit from convict labour. Some 30,000 British convicts were shipped to a select few North American colonies between 1618 and 1777 before the American Revolution put an end to the offloading, necessitating the colonisation of Terra Australis. But in the case of the US, any convict cringe was far outshadowed by the 'elephant in the room'—the 1607-1865 slave trade.
Australia may be unique in that the majority of its first European settlers were convicts. But the open air prison era was not only short-lived but substantially diluted early on by a massive influx of immigrants who arrived of their own free will, and continue to do so.
So instead of harking back to our penal colony beginnings as though they are part of a shared quintessentially Australian inheritance, isn't it time to place more emphasis on the opportunities that this country has always and continues to offer, not only to the emancipated convicts, but to enterprising immigrants the world over who wish to call Australia home? A second chance to make good when their own country or circumstances have let them down?
As good a reason as any to call for our inappropriately-named Australia Day shifting to a less divisive date, especially as far as the First Australians are concerned. As others have long argued, the crucial date that commemorates the federation of the self-governing start up colonies into the Commonwealth of Australia, 1901, namely May 9, seems the obvious choice.
References cited
Robert Hughes. 1987. The Fatal Shore – A History of the Transportation of Convicts to Australia, 1787-1868. Vintage. London.
The Australians: Historical Statistics. 1987. Fairfax, Syme & Weldon Associates, Broadway, NSW, Australia.
Biography
Barbara Cameron-Smith acknowledges her Irish and English convict roots and subsequent free settler ancestors who were forced out of Scotland by the 'Clearances' or emigrated in search of a better life for their families in Australia's 'wide brown land'.