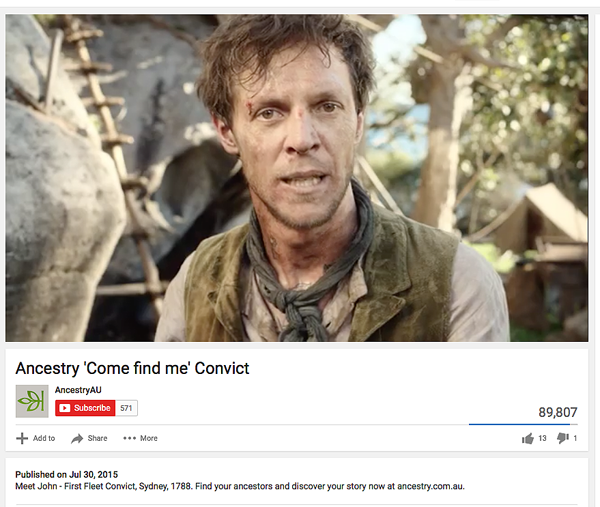 Here's John, a first fleet convict.
As an Ancestry user who has been building my family tree for over three years, am I the only one who finds the 'Come find me' ads annoying as all get out?
Yes, the ads in themselves might be clever and compelling, carefully constructed and enthusiastically acted out. And presumably they have generated a spike in subscriptions of all kinds to Ancestry.
All very well. However the problem, in my opinion, comes down to truth in advertising (not that that's ever been a problem for the industry, frankly).
Here's the squeaky clean looking Barrow Girl.
If only one's forebears could suddenly pop out at you 'in the flesh so to speak' as you methodically add in their date of birth and so on and check off your tree facts and figures against those of others. I wish!
What a thrill it would be if, in the mere blink of an eye, you can see what they look like AND get amazing insights into their personality, to boot.
Speaking from experience, it's anything but for Ancestry builders. More often than not, it is you as the builder that has to find and load up any images past generations of your family may have held onto. And they only go back so far, the art/science of photography being relatively recent.
There are very few photos (let alone sketched or painted portraits) of individuals who arrived on the First Fleet, for example, other than those who went on to make good and were photographed in their much older age. So good luck with turning up a photo of your convict.
If no photos exist, and most often they don't unless your relatives happened to be hoarders, your family tree will instead be peopled with dusty facts including names, dates, census data, various certificates and so on, which makes most family trees as dry as all get out.
Top marks for catchy ads. Bottom marks for authenticity when it comes to what punters are likely to turn up via the Ancestry process, worthy as it is for making connections.