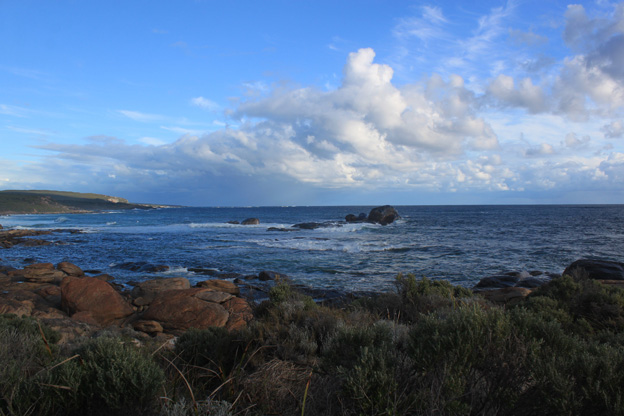 In December 1876, a remote beach in Western Australia (Redgate Beach) bore witness to the shipwreck of the SS Georgette, a steamer making its way from Western Australia's Freemantle to South Australia's Adelaide.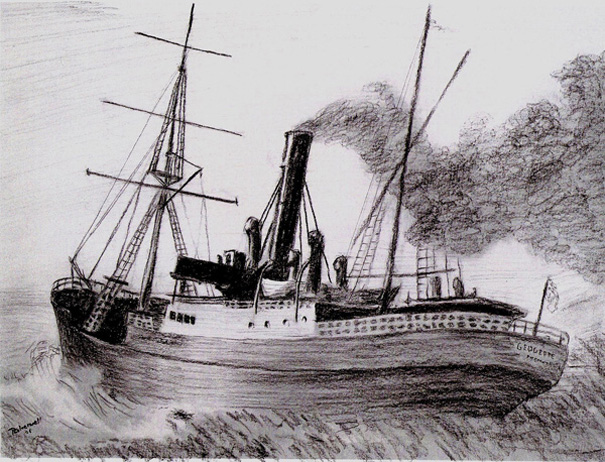 The SS Georgette
The numerous islands, reefs and rocks that intersperse the coastal seaways of the south-west corner of Western Australia posed a danger to shipping, with at least 78 vessels wrecked along this stretch of water.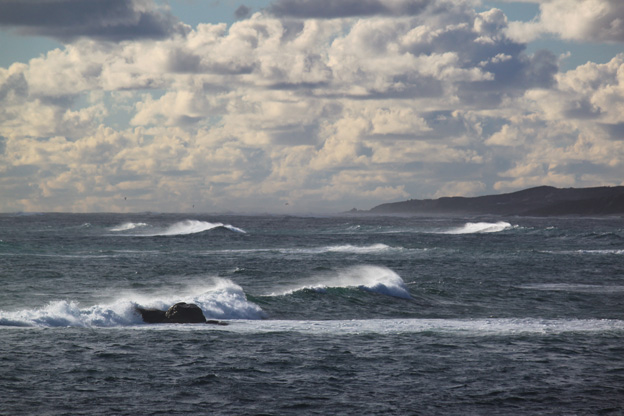 But the blame for the foundering of the coastal trader and passenger vessel, the SS Georgette, came down to its unseaworthiness. After springing a leak, its pumps failed.
With his steamer taking in water faster than the crew and passengers could bail, the captain steered his stricken ship towards shore and when the ship finally ran aground on rocks in Caldargup Bay, attempts to lower the lifeboats resulted in the initial loss of 12 lives.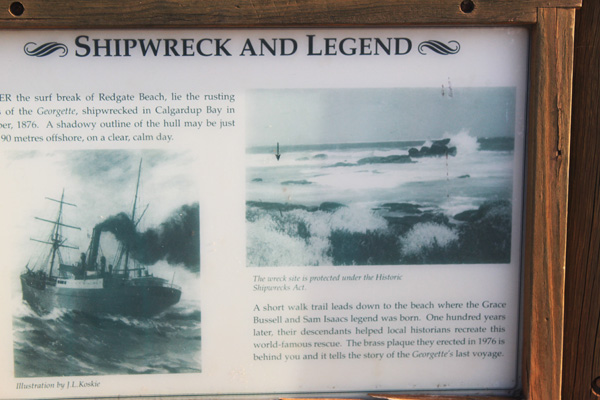 The remains of the SS Georgette lie just to the left of the three rocks on the left hand side of the above photograph, as indicated in the black and white photo two above.
By chance an Aboriginal stockman witnessed the drama and ran back to Margaret River mouth to raise the alarm, returning to the shipwreck scene with Grace Bussell, the 16-year-old daughter of an English settler.
While hard to see in the above colour photograph, before a road was cleared to the beach, the valiant pair had to ride their horses down the steep slope hidden from view by the foreground bluff to reach the water's edge.
With the vessel capsized 90 metres off shore, and the lifeboats ineffectual, the rescuers had to swim their horses some 90 metres through the surf to reach the survivors.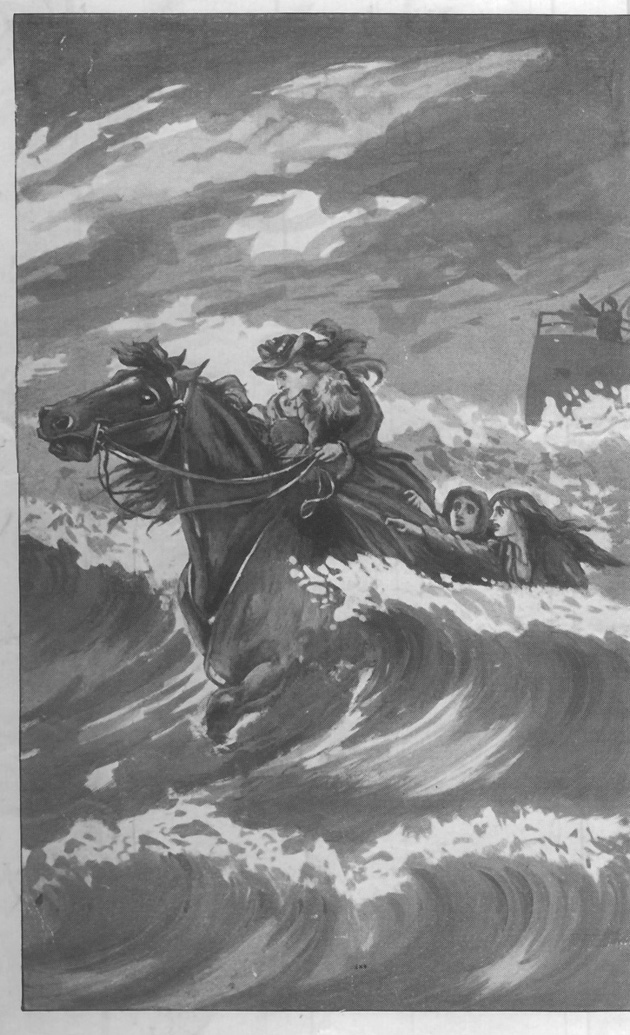 It took over four hours to rescue the surviving passengers, who clung to the horses as they made their way back to the safety of the beach. While Grace and Sam Isaacs were awarded medals for their bravery, spare a thought for the horses that the pair urged to swim into the surf and back over the duration of the long rescue.
The distressed passengers, many of them women and children, were transported back to Wallcliffe House, Grace Bussell's home.
The following website provides a poignant update on the historic house, documenting its destruction by the 2011 Margaret River bushfires.
http://thetrueadventuresofeloise.blogspot.com.au/2011/11/tragic-end-to-wonderful-story.html
Photographed from the road in May 2013, the stone remains of Wallcliffe House overlook the fire-ravaged coastal heathland abutting the Margaret River.