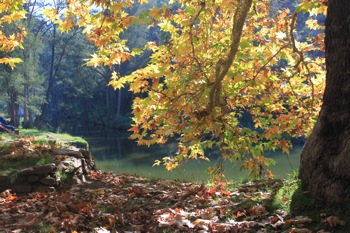 Autumn leaves, Ophir, May 2011
Ophir (pronounced o-fear)
It's an odd sounding name for a tiny locality north east of Orange, NSW. But for those with an understanding of Hebrew, it makes perfect sense. 'Ophir', after all, means gold, and the once thrumming place that now bears its name witnessed the fortuitious discovery of Australia's first payable gold.
One hundred and sixty years ago, at what is now an idyllic camping ground, the course of Australian history changed in a space of months as news of payable gold around the junction of Lewis Ponds and Summer Hills creeks sparked the first of many goldrushes that transformed Australian society in the 1850s.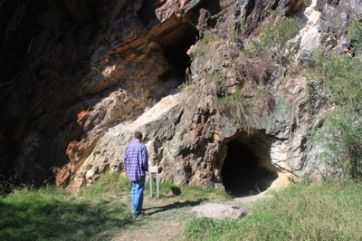 Tunnels carved out by gold miners are just a stone's throw from Ophir's camping areas.
Just 60 years after the British first laid claim to the colony of New South Wales, the 1851 gold rush triggered a massive influx of adventurers who arrived of their own free will to try their luck in a land of opportunity.
Long before the post World War 11 influx of refugees from war torn countries, the gold rushes of the 1850s transformed the face of Australia and its embryonic society. Some of the poorest classes became rich and some of the richest couldn't hire servants or shepherds for love or money as they took off in the hope of securing a lucky strike.
Any talk of Australian society emanating from a convicted class lost its sway in the 1850s as the colony's population swelled. In 1851, before the rushes, about three in 10 colonial males had been transported. But for the 1851-1860 period as a whole, under two per cent of the estimated population of 613,660 were classified as convicts.
What triggered such a dramatic dilution? In one word, gold. In 1851 the discovery of this precious metal converted the Bathurst region into 'one vast gold-field.' The first waves of European immigrants included adventure seeking types who swarmed to Australia's scatter gun outbreak of gold rushes, lured by the prospect of getting rich quick and moving upwards into a down under style known as the nouveau riche.