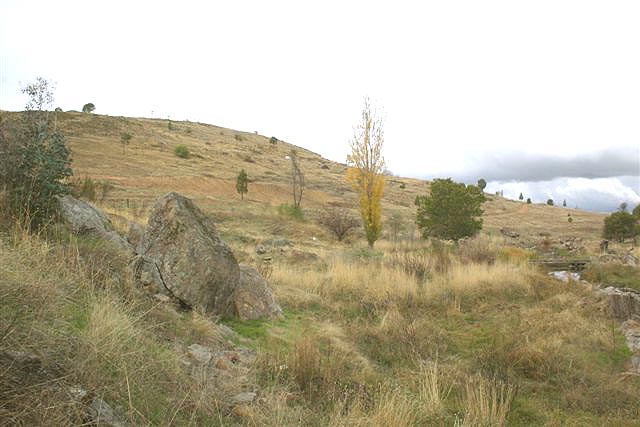 Adelong Creek view looking towards the township of Adelong and Tumut in the Snowy Mountains area
What can be more exciting than stumbling across a dated historic illustration that is an almost perfect match with a current day photo of the same landscape, creating a 'now and then' duo that has the potential to fill in the dots as to what existed when and where?
Take, for example, the nondescript photograph above shot from the northern side of Adelong Creek near the junction of the Sawyer's Creek tributary, on the outskirts of the township of Adelong in southern NSW near Tumut.
Taken as a record shot, the 2010 photo captures an iconic rock on the left hand side which proved to be a vital clue to unravelling the history of this site.
Little did the the artist Edward Coombes (1830-1895) think at the time that his 1870 watercolour, featured below, might play a role decades down the track in revealing not only the location but also the architectural style of the gold ore crushing battery that once occupied the middle distance.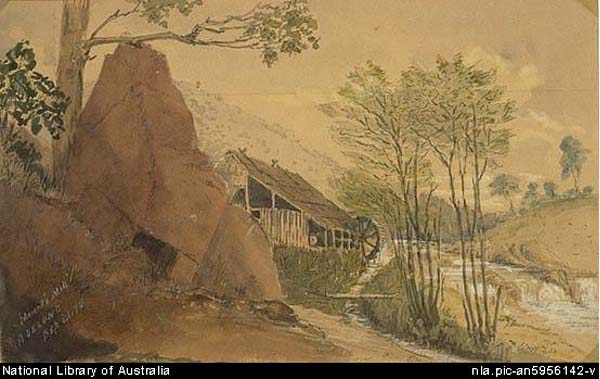 The National Library of Australia holds the original Edward Coombes' illustration
Variously known as the Great Western and Edwards Mill, the water powered ore crushing factory in the middle distance was renamed the Williams Mill after changing hands.
While Coombes used artistic license, increasing the steepness of the hillslopes and rendering the distinctive rock out of all proportion in relation to the lay of the land, it is unmistakeably the same scene.
And when you compare the now and then images, it not only indicates the location and architectural style of the ore crushing mill but also the route of water originally siphoned off Adelong Creek to turn, and hence power, the water wheel before it was eventually reunited with Adelong Creek.
Note the man-made diversion channel in the illustration and its legacy in the contemporary photo, in the form of an indented channel.
In the absence of such illustrations, we only have written records to go by and words fail to convey the nature of the structure that pulverised gold-bearing ore and sought to extract the maximum amount of gold.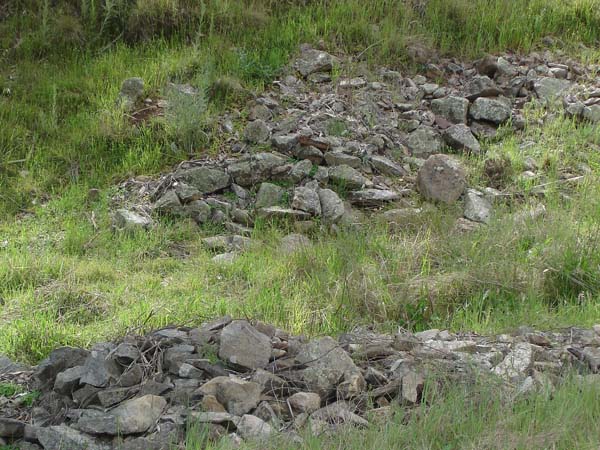 The ruins of the Williams Mill on the Sawyers Creek tributary
All along Adelong Creek, unprofitable and/or flood-prone ore crushing mills were routinely plundered in order to construct the next generation of better performing mills. Readily recycled components included water wheels, water transporting races and the building materials of local stone.
For the record, all that is left of the ore crushing mill depicted in the Coombs' historic illustration is a bed of rubble above, located in the middle distance of the first photo in this blog post as lumpy disturbed ground.