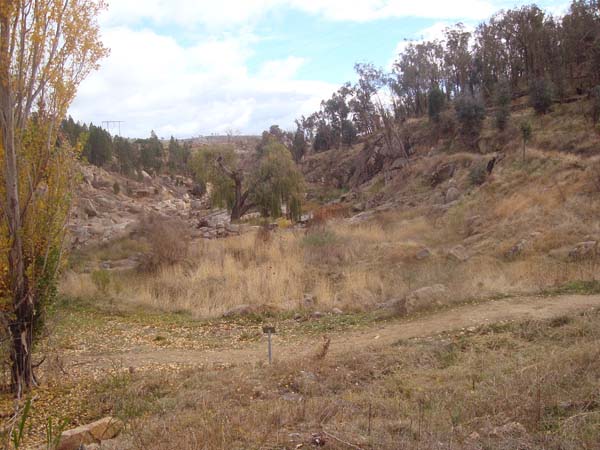 The hills sloping down to Adelong Creek once reverberated with the non-stop clatter of ore crushing batteries
The small hard to spot wayside sign this side of the walking track above reminds visitors to Adelong Falls Gold Workings/Reserve that in years past, a gold ore crushing machine occupied this spot. All that's left of the long gone Edward's Mill is a pile of grassed over rubble and the just discernible channels that once ran with diverted water.
The 'ghost' mill was located just upstream of the famous Reefer Battery perched above Adelong Falls, the remains of which can be viewed today from the lookout above Adelong Creek.
But mere words on the sign can't possibly convey the look and feel, let alone the sound, of the water-powered mill constructed in this vicinity that housed a a cacaphony of ore crushing and grinding and gold extracting equipment, including stamper batteries.
That's why on the spot illustrations like the one below (held by the National Library of Australia) are such vital resources when it comes to interpreting the past, especially if it's possible to line them up with current day photographs, as attempted in this blog.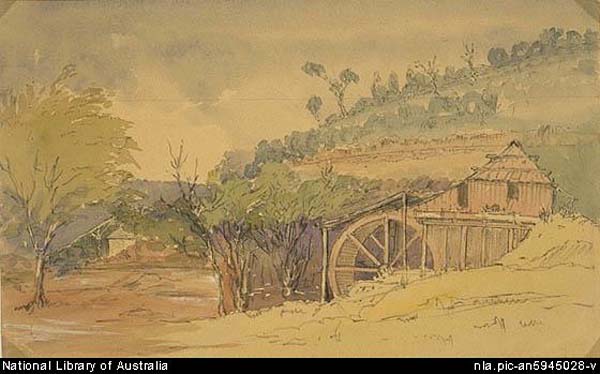 Little did the watercolour artist, Edward Combes (1830-1895), realise when he painted it in 1870 that years down the track, his handiwork would help unravel the ongoing history of the ore crushing batteries constructed along the banks of Adelong Creek near Tumut in southern NSW.
What exactly can we learn from this illustration? The big wheel in the foreground is powered by water siphoned off Adelong Creek, an early form of renewable energy that was widely used at the time.
In the background we can see a newly-constructed ore crushing mill that went on to become the most lucrative and longlasting of Adelong's crushing machines, namely the Reefer Battery.
When comparing then and now photographs and illustrations, obstacles inevitably arise, including current day trees that obscure the historical ruins of the Reefer Battery.
When vegetation obscures the exact match up of 'then' illustrations and 'now' photographs, a photo taken from a slightly different angle may shed light on the 'match up' as instanced above.
The roofless remains of the stone building - an office - depicted in the 1870 illustration can be seen in the middle distance, to the left of the exact same vigorous willow tree that obscures the ruins in the first photograph.