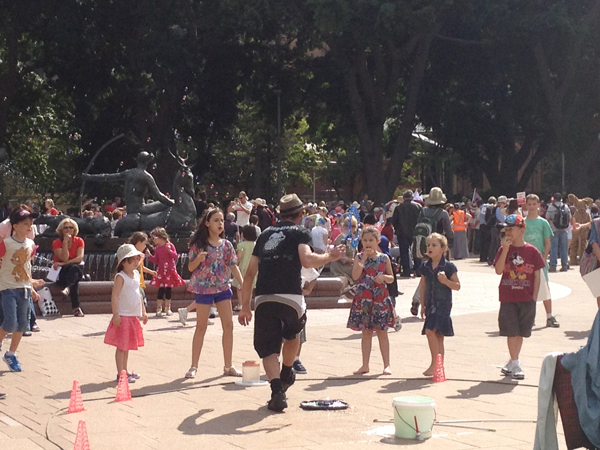 The no hunting in national parks rally started in Sydney's Hyde Park, and the mood was playful, with entertainers blowing bubbles for the children.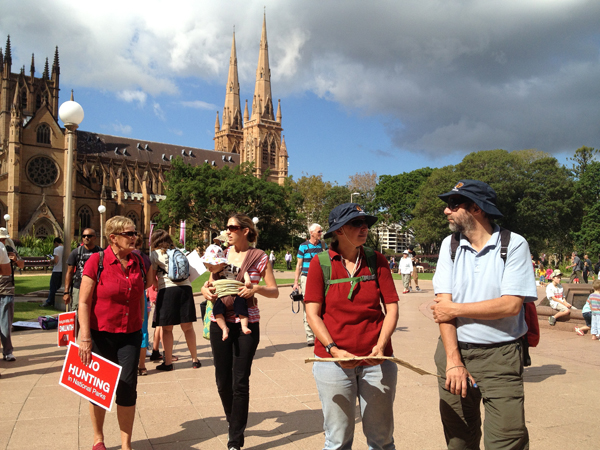 But the mood is serious as 3,000 or so protesters gather, with the no hunting in national parks message supported by young and old.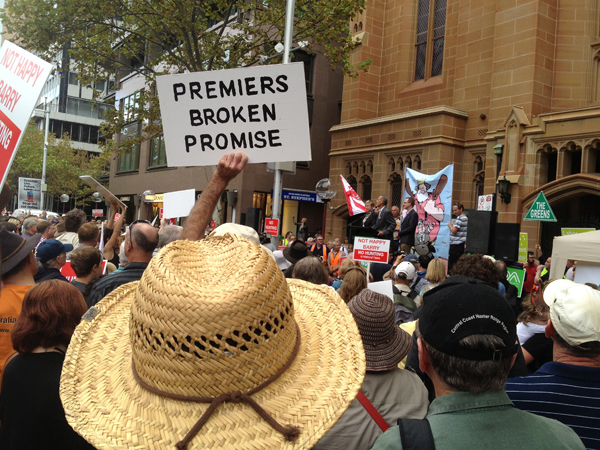 Following former NSW State Government Environment Minister Bob Debus's address, the crowd warms to an electric presentation by former Greens leader, Bob Brown.
Like many others who attended the rally, no doubt the Premier and various members of his government will be on the receiving end of a flood of protest letters, including this one from me.
19 April 2013
The Hon. Barry O'Farrell, MP
GPO Box 5341
SYDNEY NSW 2001
Dear Mr O'Farrell,
I am writing for the third time to express my concern about the NSW Government's intention to introduce hunting in at least 79 national parks, and potentially many more according to the latest reports. And following the 3,000-strong no hunting rally outside Parliament House on Thursday, I am clearly not alone in this regard.
Game Council not fit to supervise on park hunting
One of the most alarming aspect of this radical plan to allow individuals to hunt after giving just 48 hours notice is that two senior men of the organisation charged with supervising amateur shooting are themselves facing court on the grounds of illegal hunting. If these two men are anything to go by, then what of the inexperienced hunters and shooters with little understanding or concern about hunting and its impacts on native wildlife species whose lives will be at risk and ability to reproduce disrupted by their recreational activities.
The fact that the Game Council's acting head, Greg Macfarland, is being investigated for illegal hunting and alleged animal cruelty over the killing of a feral goat is surely sufficient enough reason for you to rethink the use of guns and cross bows in national parks, a program that has been promoted by the gun lobby on the spurious argument that amateur hunters will genuinely make a difference to feral animal numbers across the State.
The misdemeanors of these officials, not to mention the NSW Game Council's reporting of illegal hunting incidents, gives you the perfect excuse to say that it in hindsight, having undertaken the risk analysis and looked at the cost of outfitting park staff with bullet proof vests, the NSW Government's outlay of $18 million a year to administer hunting in national parks cannot possibly be countenanced.
Shooters and Fishers Party MP decries proposed US gun laws
Clearly the two members of the Shooters and Fishers Party (SFP) have the O'Farrell Government over a barrel when it comes to introducing hunting in national parks in return for the former's support for privatisation of the State's electricity. To make matters worse, it is galling and alarming in equal measure to discover that one of these men, SFP MP Robert Borsak, can be seen on YouTube openly and unashamedly urging Americans to 'fight and fight hard' against the proposed tightening of gun laws which sadly failed to pass, to Barack Obama's obvious disgust.
In addition to my dismay about the O'Farrell Government actively aiding and abetting the promotion of a gun culture in NSW, I am equally concerned for the safety and wellbeing of park staff and park users. How on earth can the O'Farrell Government expect to raise more revenue from park entry fees if traditional park users have to weigh up whether they want to risk being shot or killed by a stray bullet.
Taxpayers fund recreational hunting money
Where is the equity in the O'Farrell Government expecting the taxpayers of NSW to pay for the recreational pursuits of amateur hunters to the tune of $18 million a year. And will these same amateur hunters pay park entry fees on the user pays system that passive recreationalists – namely bushwalkers, campers, rock climbers, canoeists, fishermen, etc – have willingly outlayed for decades, or will these typically non-park users get free access because the O'Farrell Government has allowed itself to be persuaded that haphazard, unstructured hunting will make the slightest dint in feral animal numbers.
Inability of Games Council to supervise licensed hunting
It is inconceivable that such a thinly spread organisation as the NSW Games Council has the ability, let alone the genuine will, to supervise all licensed hunting events across the State into the future.
The question remains, why should the hunters' rights trump the rights of passive recreationists, let alone the native wildlife disturbed by shooting? Shouldn't bushwalkers and campers have the exact same rights to pre-book access to a park or reserve on a particular date, hence barring access to hunters, in the name of access and equity?
Again I reiterate my concerns that if it was the NSW Liberal Government's intention to promote and encourage a gun culture, it should have advertised this intention before the election so that voters were on notice and could vote accordingly.
Yours sincerely
Barbara Cameron-Smith