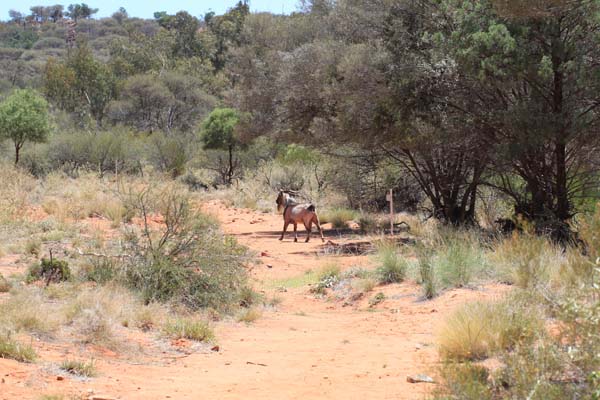 For wildlife spotters, frequent sightings of feral goats, including this male buck, are a worry
Despite park management's laudable culling of more than 10,000 feral goats in Mutawintji National Park in recent years, successive seasons of good rains after drought, and the subsequent 'greening' of far north-western NSW, have seen an explosion in herd numbers.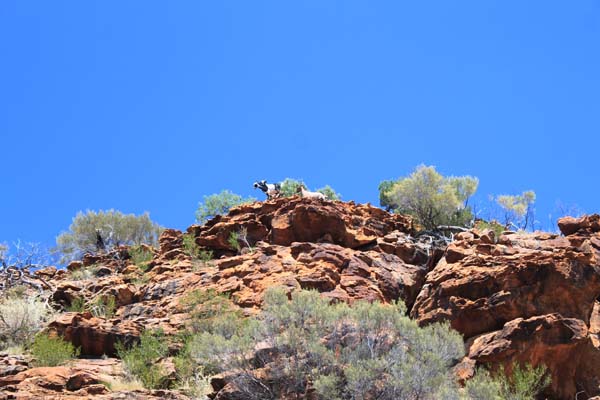 There's no doubt that feral goats and other introduced species such as pigs, rabbits, foxes, camels and horses are a serious problem for national parks and reserves in NSW and landholders in general.
The key question, however, is what impact on feral animal numbers will the opening up of national parks and reserves to amateur recreational hunting actually have on the government's stated aim of keeping feral animal numbers down.
As a concerned citizen, such is my concern about the publicised rationale for introducing unsupervised hunting in national parks and reserves, I sent the following email to Barry O'Farrell and key members of his government today.
19 February 2013
The Hon. Barry O'Farrell, MP
GPO Box 5341
SYDNEY NSW 2001
Dear Mr O'Farrell,
I am writing to express my concern about the NSW State Government's stance on hunting in NSW national parks, including the very popular Myall Lakes National Park. In addition to the Liberal Government's mooted deal with the NSW Game Council being a broken election promise on your part, using the environment as a political football is an unedifying and worrying turn of events.
No one disputes the need to reduce the number of feral animals in many of our precious national parks and reserves, including those in more remote parts of the State that attract fewer visitors. Indeed, we were dismayed by the number of goats we saw in the gorges and on the ridgetops in Mutawintji National Park in early January 2012 as they were clearly competing with any surviving colonies of Yellow-footed Rock Wallabies.
But by what rationale can the O'Farrell Government even start to argue that recreational hunters would make any difference to the serious feral animal problem that is already being addressed by targeted humane strategies directed by national park officers.
Indeed, one would assume from media coverage on this issue that controlling feral animals has not been high on NSW NPWS's agenda to date, which is of course a fallacy. For decades, feral animal control has included culling, mustering and removal of pest species across national parks and reserves, using carefully thought through and often sophisticated methods including equipping so-called 'Judas goats' with radio tracking devices so that the herd can be readily tracked and controlled according to approved and humane methodologies.
If the O'Farrell Government was genuinely serious about keeping down feral animal numbers, it would invest more money in professional mustering and removal and/or culling of feral species using the latest techniques and technologies, and where ever possible, convert the culled animals into a usable product for pet and human consumption, already an outcome of NPWS legislated mustering procedures.
To imagine that licensed hunters in an uncontrolled non-systematic way can make a dint in the numbers of feral animals concerned is laughable to the point of nonsensical when the 10,000 goats removed from Mutawintji in recent years haven't solved the problem of the goat population explosion following two years of good rain and growth. Apart from the risks to people visiting parks for passive recreation from hunters as young as 12 and variously armed with crossbows and guns, my concern also extends to native wildlife species that could be mistaken for game and/or driven away from their territories by the sounds of guns.
The majority of the general public may not be aware that in NSW the hunting lobby already has access to hunting grounds for the purpose of killing rabbits, goats, pigs, etc, including on private property by arrangement and in the less visited State forests, a much more appropriate setting as there is much less chance of accidentally killing or injuring an individual or native wildlife.
There is a good reason why visitors arriving at a NSW national park or reserve are confronted by signage that politely reminds that they are entering a no guns precinct. National Parks have and continue to be primarily reserved for the conservation of natural and cultural heritage values, including flora, fauna and natural landscapes, as well as passive recreation and education.
To many of us, the O'Farrell Government's stance on hunting in national parks is a blatant example of political expediency, namely a bid to win over the NSW Game Council and the Hunters and Shooters Party in return for their vote for the privatisation of the State's electricity. Such a controversial and illogical deal is bad for the environment, bad for native species, bad for bushwalkers, and bad for the feral animals inhumanely felled or wounded by the hunters and potentially left to rot.
If it was the NSW Liberal Government's intention to unwittingly promote a gun culture, it should have advertised this strategy before the election so that voters were on notice and could vote accordingly. On that note, all power to Nathan Rees for having the guts to show the hunting lobby the door when they approached him with similar proposals.