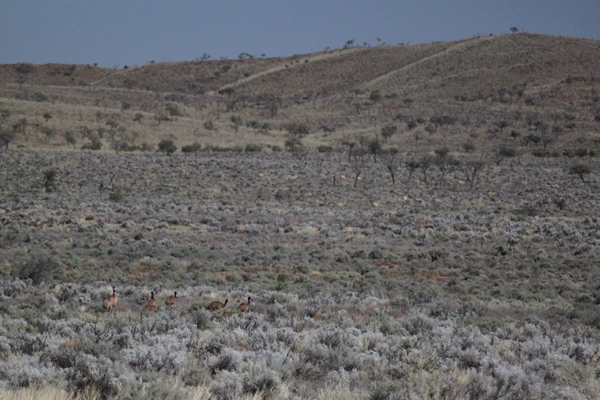 A well-camouflaged flock of emus (five in left foreground) make themselves scarce as we approach the historic township of Menindee in late December 2011.
The first European settlement on the Darling River, the town (and so-called Menindee Lakes) are approximately 100 km south east of Broken Hill to Menindee Lakes and accessed by a good quality sealed road.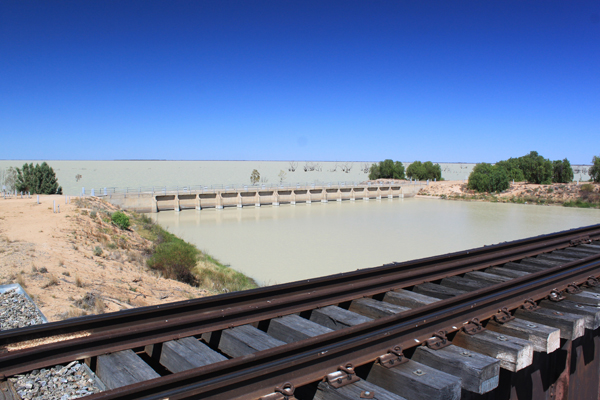 The most prominent feature on the approach to Menindee Lakes is the railway line from Broken Hill.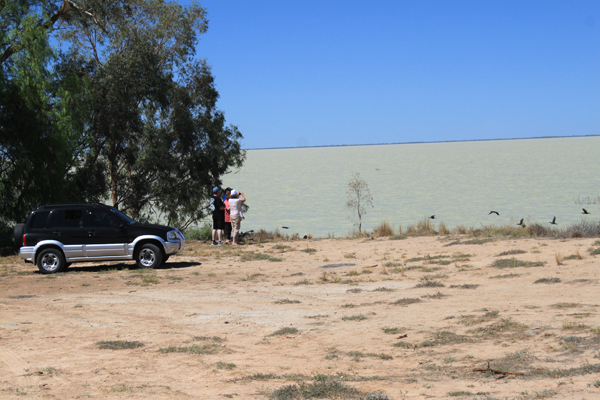 It is hard to comprehend the vastness of the flood-filled lake from the sign-posted lookout over the swollen water body that reflects the colour of transported topsoil. While waves lap onto the shores and water birds flap by, the disconcerting site of the ringing forest of long dead trees detracts from the magnitude of the unusual view.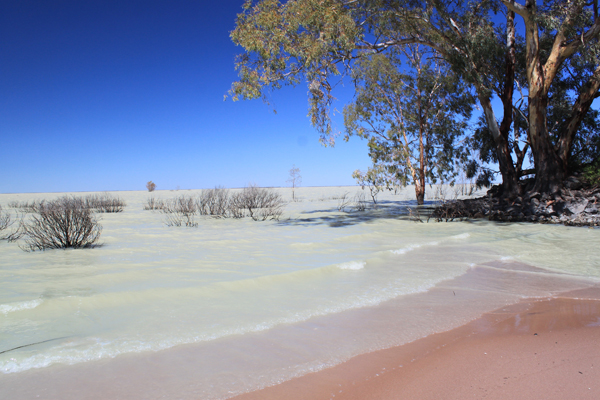 It is worth the short walk down to the lake beach to witness close up the visual contrast between the red sands and the green-gray silt-carrying flood waters delivered by the Darling River.
The denuded bushes in the foreground bear testimony to lower water levels of the semi-arid vegetation.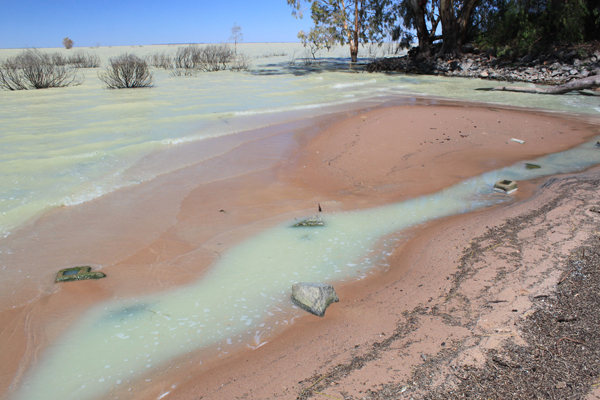 We witnessed that same green grey water surging down the Darling River at Willcannia, its surface 'iced' with what looked like leaf litter and other detritus picked up by flood waters.
Following the controlled release of water from Lake Menindee in late December 2011 (reputedly 16,000 megalitres per day at Weir 32 by 24 December), bands of nature's flotsam and jetsam mark the dropping levels.
Similarly, releases from the adjoining Lake Cawndilla to the Great Darling Anabranch began at 250 megalitres per day and were increased to 1,800 megalitres per day by December 24.
More: http://www.tandou.com.au/_webapp_944907/Media_release_flow_advice_for_Menindee_lakes
The Great Darling Anabranch is the ancient path of the Darling River that extends 460km from its junction with the Darling River (south of Menindee Lakes) to the Murray River, about 20 km west of Wentworth. It ceased to be the river channel when the river changed its path 11,000 years ago.
More: http://www.discoveringthedarling.com.au/index.php?pgid=61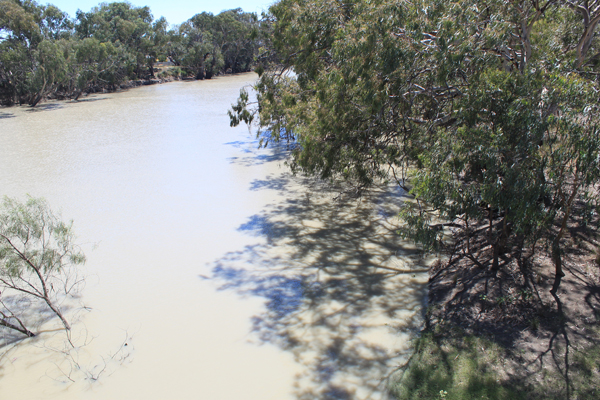 The Darling River, pictured here in late December 2011 from a Menindee bridge, feeds into the Menindee Lakes.