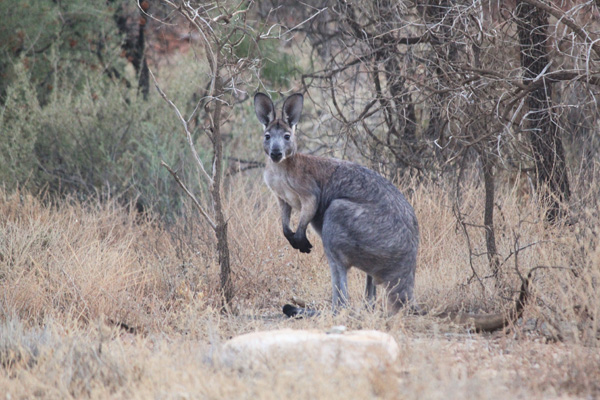 Male Common Wallaroo, also known as a Euro
While the prolonged heat may be testing for inland dwelling Australian wildlife, the key beneficiaries of the record heat wave conditions of early January 2013 were genuine wildlife photographers with camera lens a whole lot more powerful than my 18-55 and 55-250 mm varieties.
In broad daylight, kangaroos and wallabies in South Australia's Flinders Ranges and Arkaroola Sanctuary were not only easy to spot but literally too hot to hop. Instead, they generally chose to stand their ground or stick to their patch of shade rather than exert the energy required to escape a potential threat.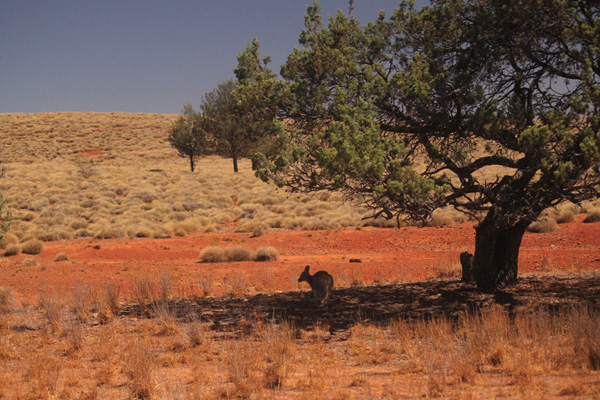 Hard to tell at a distance whether it's a Red or a Western Grey Kangaroo.
Indeed, wherever you drove through the Flinders Ranges, kangaroos could be spotted under the odd shady tree, taking advantage of the measurably cooler temperatures.
Sheltering under a roadside tree just metres from our vehicle, this mother roo was so intent on nurturing her sizeable joey that she didn't even flinch when we pulled alongside and observed the pair for several minutes.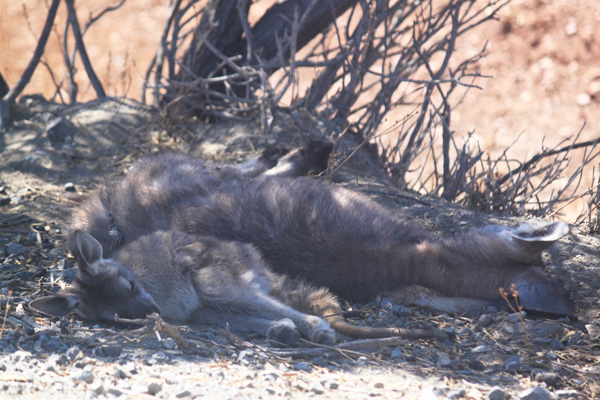 In a second example of macropods too hot to scoot, we drove up to this supine mother and child on the side of a secondary road mid afternoon. Lying head to tail, the joey in the foreground sleeps by a mother with her back to the road and head on the right hand side (note the ears)!
Again, neither mother nor offspring made the slightest effort to check out the threat potentially posed by our vehicle idling half a metre from their rest spot.
While walking the Acacia Ridge track mid morning in Arkaroola Sanctuary, South Australia, we came under the watchful inspection of a Euro sheltering under a shady tree.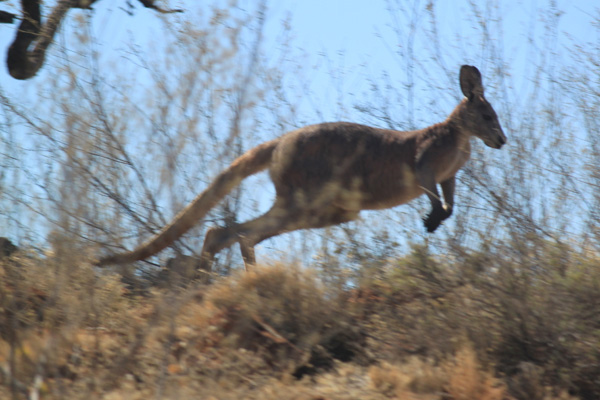 This roo only hopped off after we passed within metres of its hang out on the way to the lookout, and with its superior speed had little to fear from us.
Because kangaroos and wallabies are nocturnal species, becoming active around dusk and resting from dawn, they are easiest to spot during the cooler early morning (pictured above in Arkaroola) and late afternoon hours, even more so on overcast days.
Heat waves aside, by day (their 'night') they are even more visible in relatively remote inland parks and reserves where they have little to fear from passing walkers or vehicles.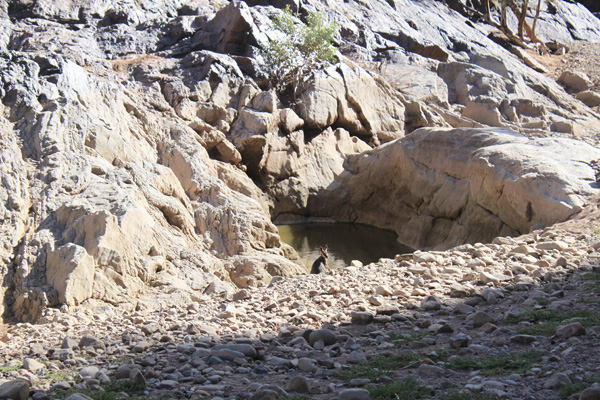 At the edge of the waterhole, a Yellow-footed Rock Wallaby surveys the scen between prolonged drinks
One of the real pluses of our early January trip to South Austraiia's Arkaroola Sanctuary were a number of sightings of Yellow-footed Rock Wallabies in broad daylight, including three fleeting morning sightings while walking Acacia Ridge.
Our most unexpected experience was coming across a wallaby around 11.30 am on a 45 degree celcius plus temperature day. Unaware of our upwind presence, it was drinking at a waterhole and kept lifting its head every 30 seconds or so to check that it wasn't under threat.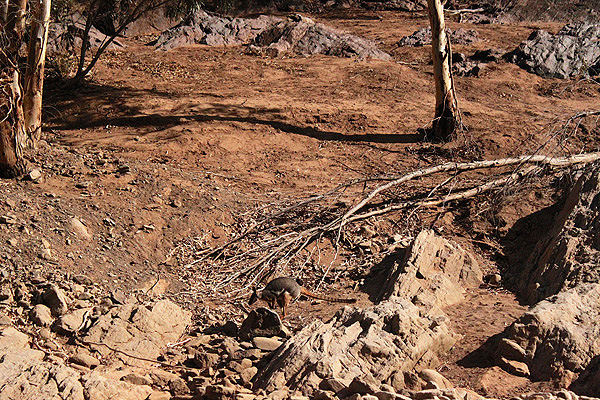 Study the middle foreground to see the striped tail Yellow-footed Rock Wallaby hopping away
A nocturnal species by nature, the wallaby seeming surprisingly unconcerned by our presence, such was its need to drink from one of the few waterholes in the gorge that hadn't dried up.