Clifden Suspension Bridge, Southland, New Zealand (opened 1899)
Is it mere coincidence that two similar looking suspension bridges with similar names, one in the UK and one in New Zealand, were built within 35 years of each other at opposite ends of the earth? Or is imitation the sincerest form of flattery?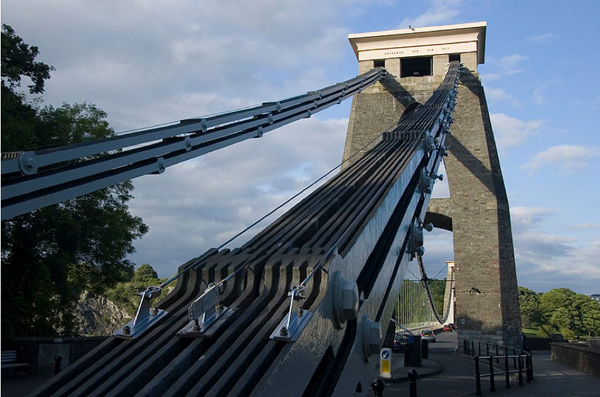 Clifton Suspension Bridge chains, Bristol (opened 1864). Courtesy of Creative Commons and Joe D.

While there are some visual similarities, the Bristol suspension bridge features one tower at either end of the span, unlike the NZ bridge which relies on a pair of towers at each end to support the suspension cables.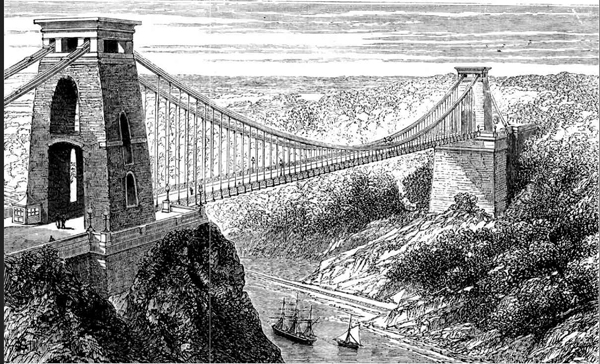 A drawing of the Clifton Suspension Bridge from Lippincott's Magazine, July 1878
The illustration above captures the suspension bridge spanning the Avon River and Gorge, including the monumental towers at either end of the span.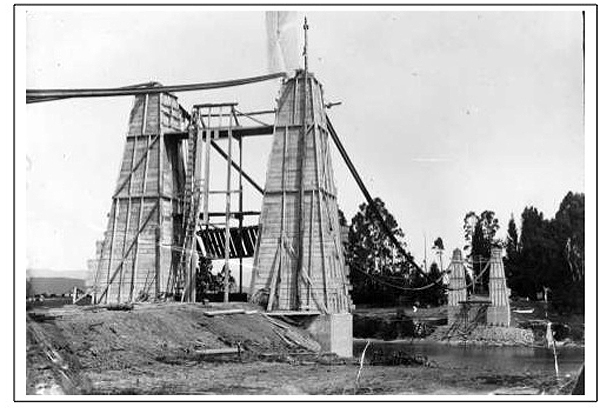 Construction of the Clifden Suspension Bridge, 1898. Collection of Southland Museum and Art Gallery
The Bristol UK bridge had been on the drawing board for over 100 years, a stop start affair that finally opened in 1864. Conversely, the South Island NZ bridge had been dreamed about from the early 1850s and opened in 1899, almost 50 years later.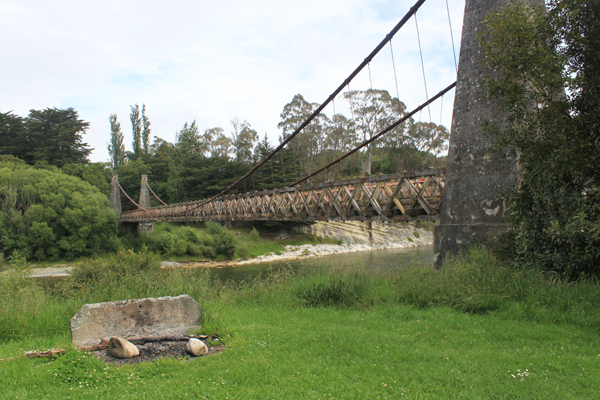 Clifden Suspension Bridge, South Island New Zealand
So is there any significance in these two bridges have similar names, namely Clifden versus Clifton? One suspects it's an intriguing coincidence.
The Clifden Suspension Bridge was named after the nearbye Clifden sheep station, run by Robert Walter Aitkin, an early Southland run holder in the 1860s and 1870s. The UK's Clifton Suspension bridge was named after the nearest Bristol suburb, which was Clifton.
So how do the two bridges stack up, scale wise?
At the time it was built over the Waiau River, the Clifden Suspension Bridge could claim the 'longest main span' in New Zealand, measuring 111.5 metres. That's around half the length of the 214 metre span of Bristol's Clifton Suspension Bridge which crosses the Avon River, as in no contest.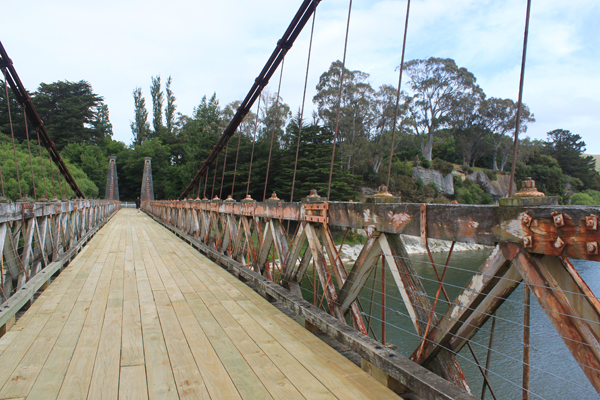 Clifden Suspension Bridge featured the longest main span in NZ in 1899.
As to the passing resemblance between the two bridges, it's likely that the Southland engineer responsible for the Clifden bridge was well aware of its counterpart in Bristol.
According to IPENZ Engineers New Zealand, 'the Southland County Council's esteemed engineer, Charles Henry Howorth' was responsible for the bridge's design. An accomplished artist, Howorth was born in New Zealand in 1856, according to art auction records, and co-founded the Invercargill Art Society in 1893.
If Howorth studied to be an engineer during his late teens or early twenties in NZ (or travelled to the UK to get his qualifications), the Clifton Suspension Bridge would have been newly opened at the time (1864) and regarded as a state of the art construction in engineering circles.
If that was the case, Howorth's imitation of sorts could indeed be regarded as a form of flattery.