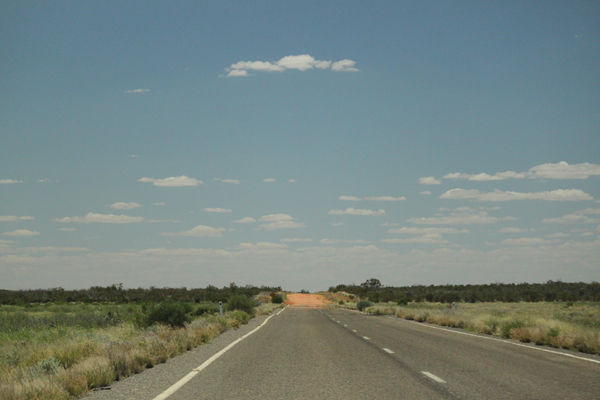 How easy is it to drive from the outback city of Broken Hill to the remote locality of Cameron Corner in a two wheel drive vehicle? From the way this iconic road trip is sometimes written up in magazines, it's the sole domain of four wheel drive vehicles.
Such write ups are both offputting and misleading for city types in two wheel drives. Given the right conditions, the 470 km drive is relatively straightforward as long as you drive conservatively, apply commonsense and plan for contingencies.
The right conditions? As the Broken Hill Visitor Information Centre and Tibooburra Office of National Parks and Wildlife Service, NSW were at pains to remind, the window of opportunity you are looking for in a La Nina year are dry roads and promising Weatherzone forecasts (as in no rain predicted or a low percentage chance of a 1-5 mm fall).
Even four wheel drive vehicles will have problems getting through if the roads turn to mud and the floodways bring all vehicles to a halt.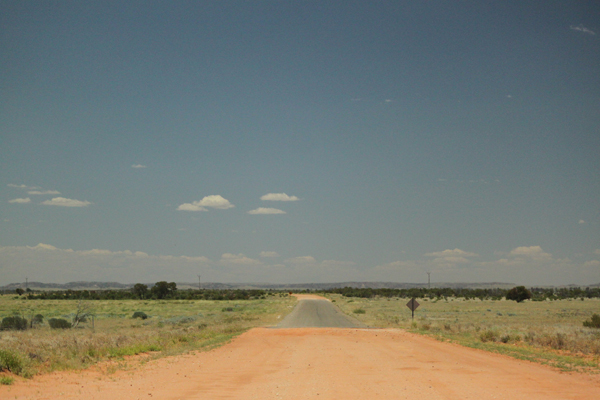 The Silver City Highway is a mix of sealed and unpaved stretches of a predominantly flat road that is criss crossed by water courses that only run a banker after decent sustained downpours in the order of 25 cm or more.
The shortest stretches of sealed road are most often found in dips, the most flood-prone stetches of the highway.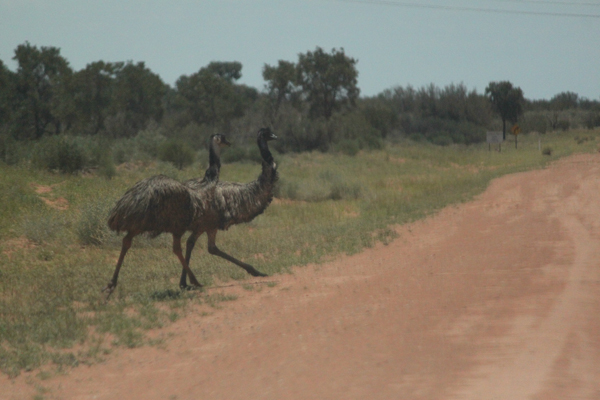 Emus step out, one of a number of road hazards encountered including kangaroos, wild pigs, goats and unfenced cattle, and to a lesser extent, birds of prey feeding on road kill and basking lizards too small to notice until it is almost too late to avoid them.
While the goats don't tend to dart out in front of you, the emus and roos do, especially on overcast wet days, and of course around dawn and dusk.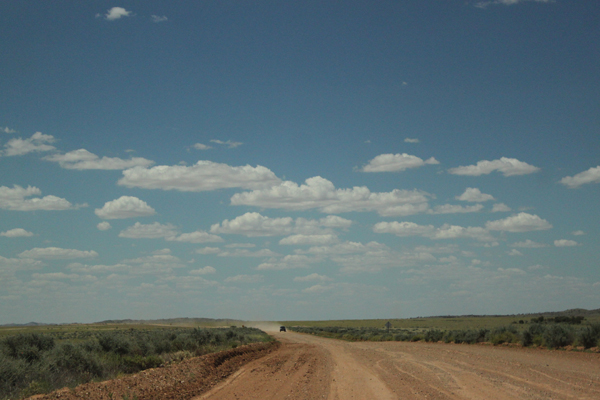 During the drive from Broken Hill to Tibooburra, we encountered one truck, and a handful of vehicles, mostly 4WDs.
The time of year, late December 2011, and heat, 45-47 degrees Celsius according to the car temperature guage, no doubt played a part in the absence of traffic, as may Broken Hill Visitor Information Centre advice that the road was impassable as in closed, which it clearly wasn't.
Some 4WDs are considerate and slow their speed to reduce the risk of taking out your windscreen by throwing up stones. Others care less and barrel through at high speed regardless, as if they have little respect for 2WDs invading their territory.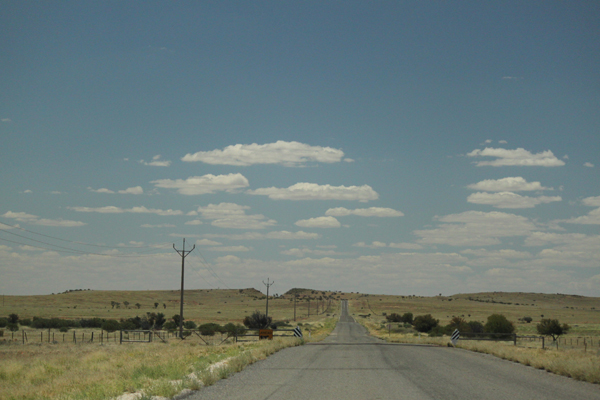 The country greens up as we head north along a sealed stretch of the Silver City Highway.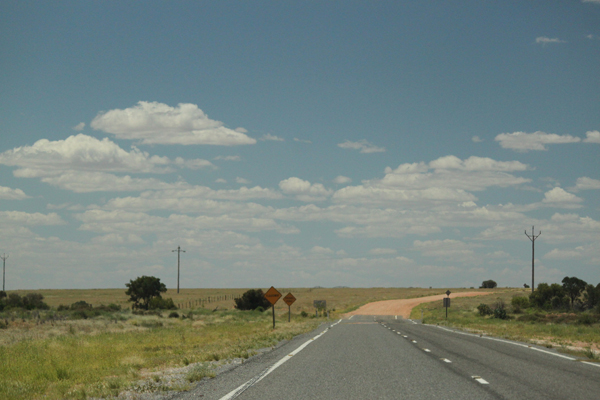 Back to the unsealed road.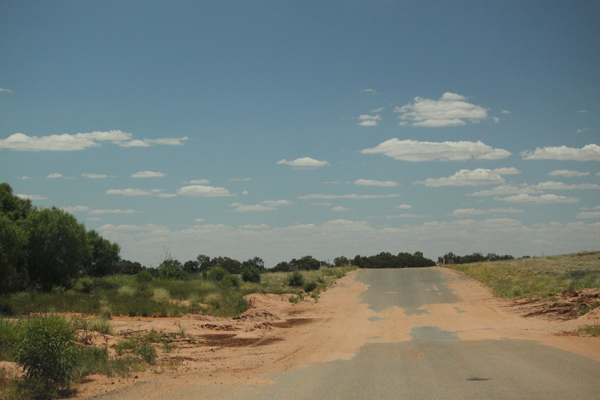 This floodway illustrates why the Silver City Highway can be closed for up to 24 hours after heavy rain. A number of floodways (or dips) cross the so-called highway and prolonged flows deposit deep drifts of sand and silt across the main road north.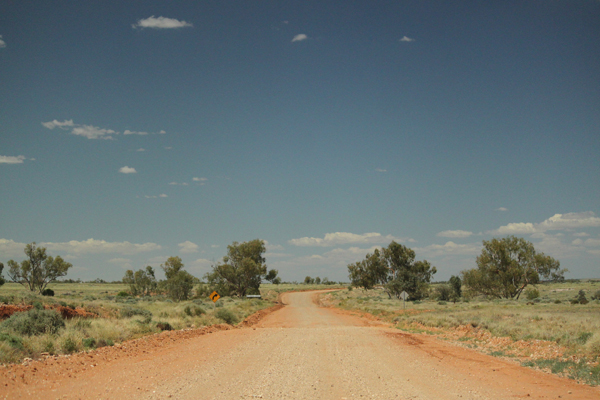 This stretch of gravel proves little problem for our two wheel drive Holden Commodore sedan.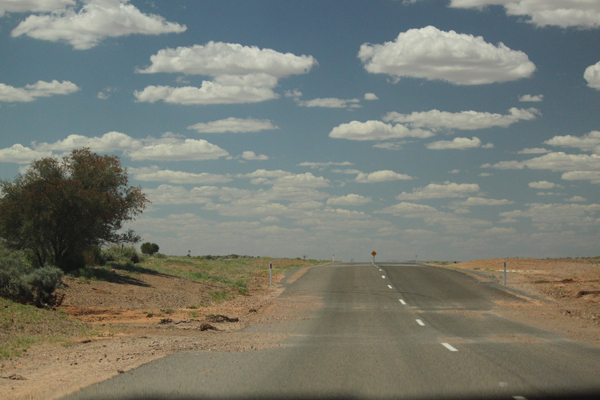 This dip provides further evidence of flood damage that closed the highway mid December 2011.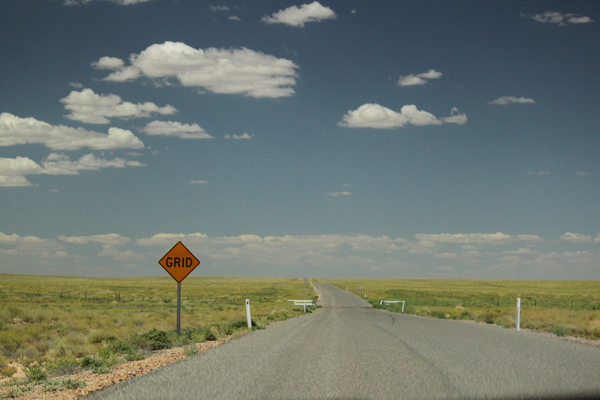 A sealed stretch of the Silver City Highway.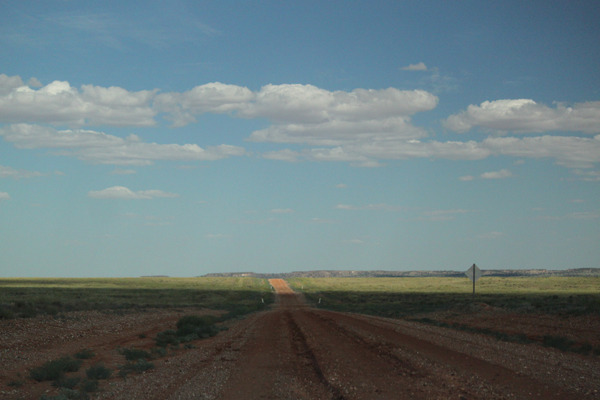 This is our first glimpse of the Corner Country's so-called 'Jump Up' country, an ancient silcrete land surface that has been largely eroded to form the stone-riddled gibber sands we are driving through.
The level of flood damage at this dip suggest that a number of vehicles may have been inconvenienced before road clearing vehicles got to work.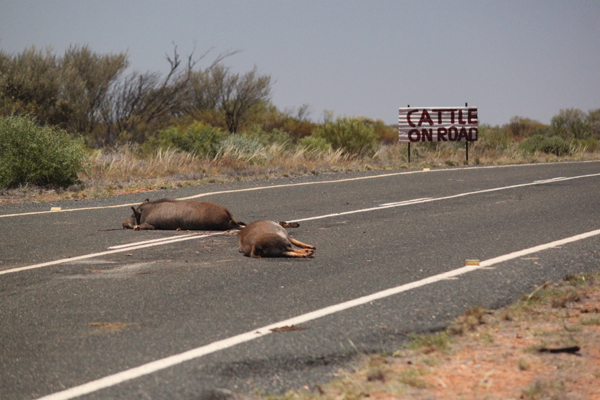 It's not cattle on the road as the ad hoc sign suggests but a family of skittled wild pigs as we approach the Packsaddle Roadhouse.
Were they planted on the road as a joke, as was suggested at Packsaddle, or the victim of a road truck barelling down the road at all hours of day or night?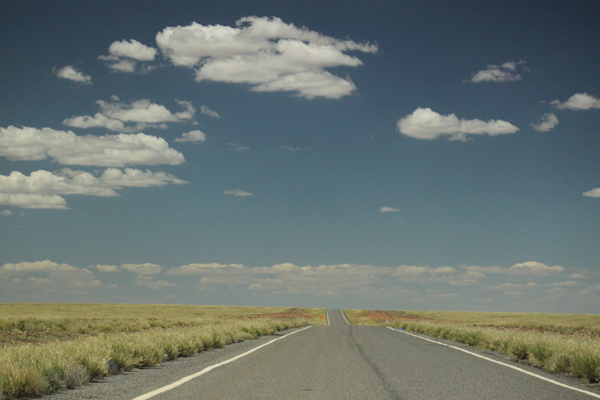 Green, green as we continue to north.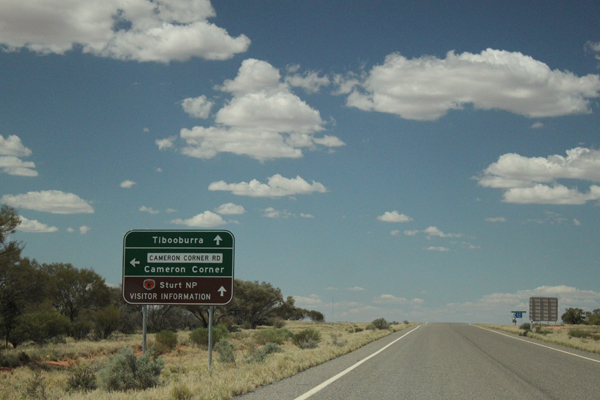 Approaching Tibooburra, we bypass the turn off to Cameron Corner.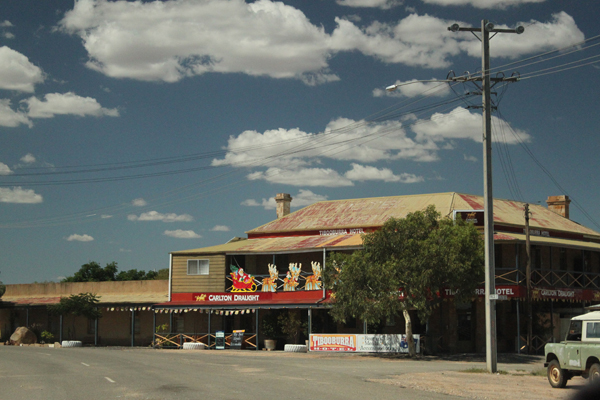 As we drive into Tibooburra on 2 January 2012, one hotel is still gripped by the festive spirit.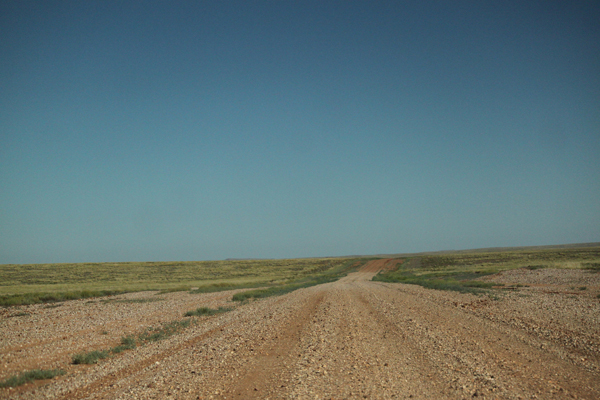 On the mainly gravel road to Cameron Corner from Tibooburra, with 140 or so kilometres ahead of us before we reach the roadhouse that serves the corner of NSW, SA and QLD.
The road to Cameron Corner was in much better condition that the stretch of Silver City Highway from Tibooburra to the Olive Downs turn off.
Driving into Olive Downs in a two wheel drive was slow going since it was necessary to remove rocks to avoid hitting hefty stones. The same went for the final stretch of the highway to the Warri Gate, 55km north of Tibooburra on the QLD border.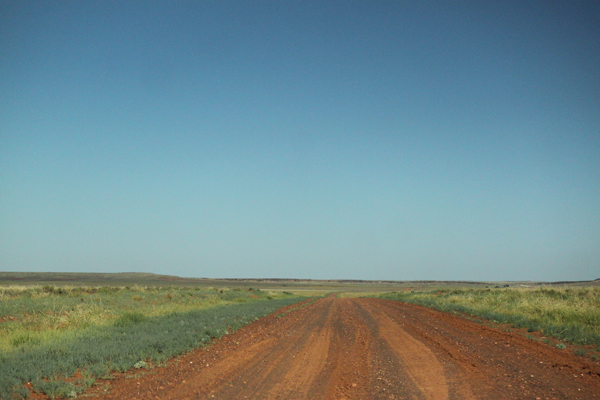 The gravel road shows signs of wetter slicker conditions that would have proved impassable in a two wheel drive and no doubt some four wheel drives.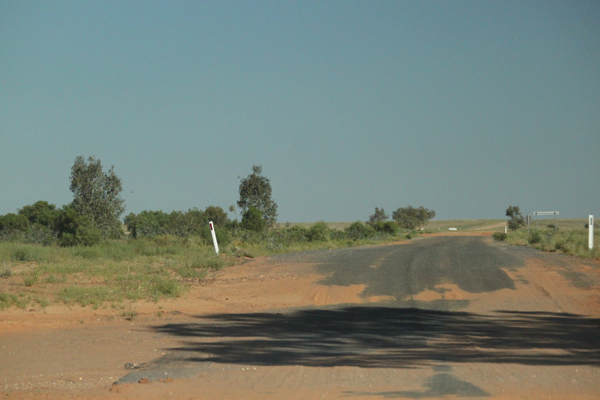 The sand and silt deposited across the floodway are a reminder of how an otherwise flat road can be cut by heavy downpours and flashfloods.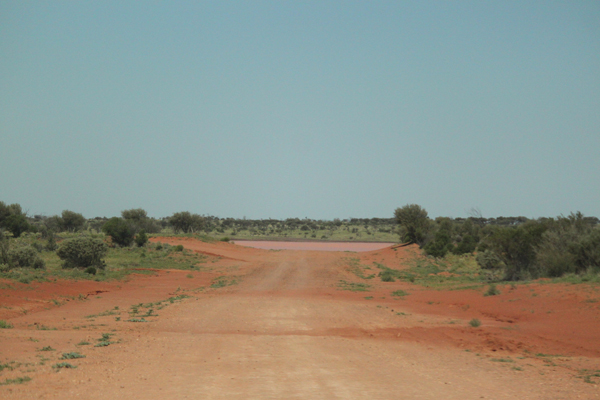 The water-filled Waka claypan, glimpsed in the distance, necessitates a left hand detour around the temporary lake through a deep sandy tract that is the major hazard for two wheel drives on the road to Cameron Corner.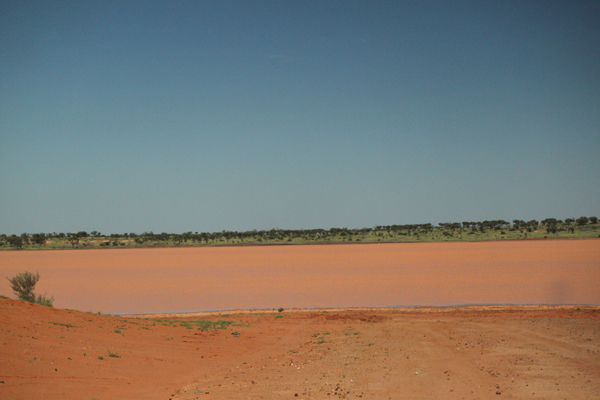 The Waka claypan is a bizarre and unexpected sight in what is ordinarily a dry semi-arid landscape with little or no standing water.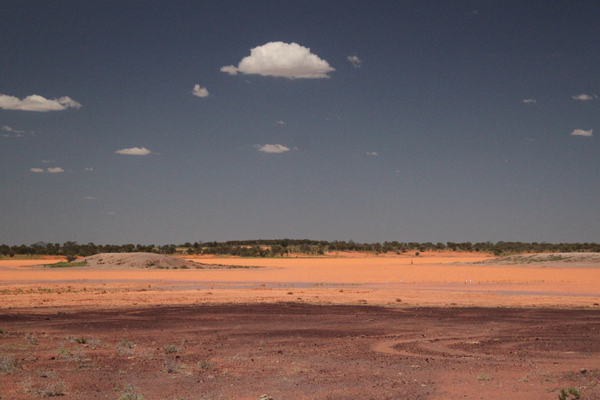 The Waka claypan viewed from the western side.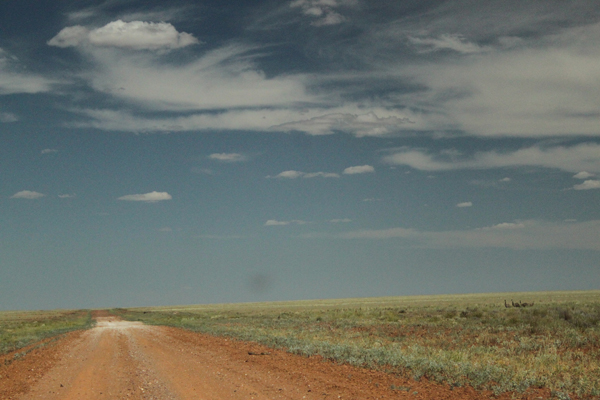 White gravel infill covers tracts of the road that presumably were problematic during the December rains.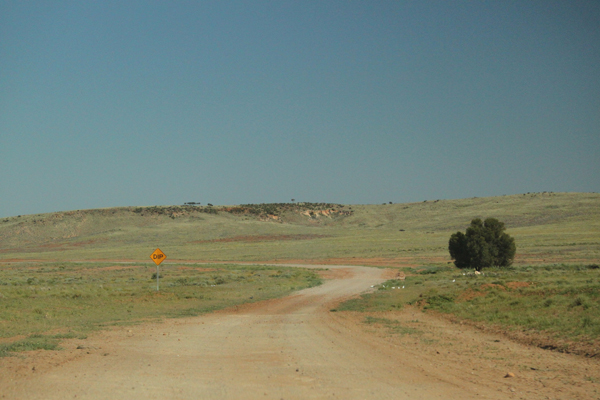 Low ranges break the flat dune country.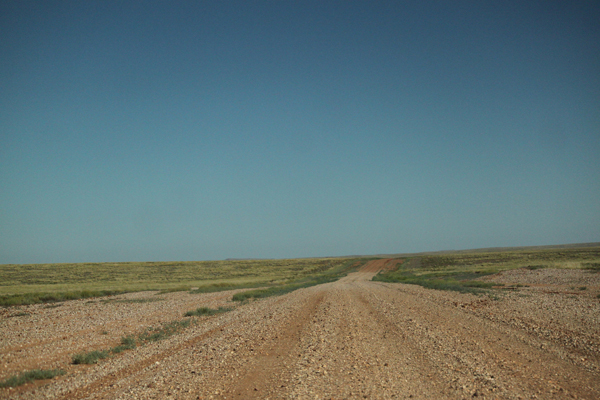 A more gravelly stretch of road.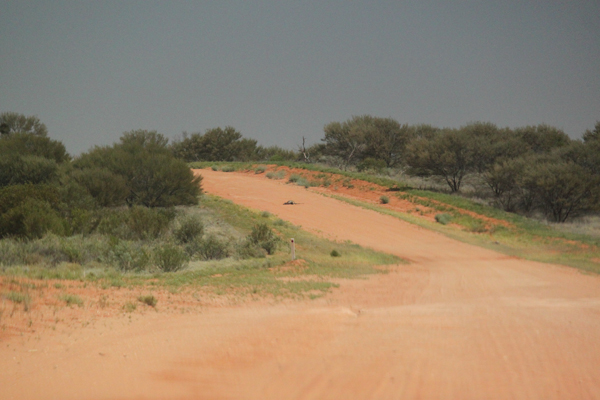 The road passes over the crests of red dunes.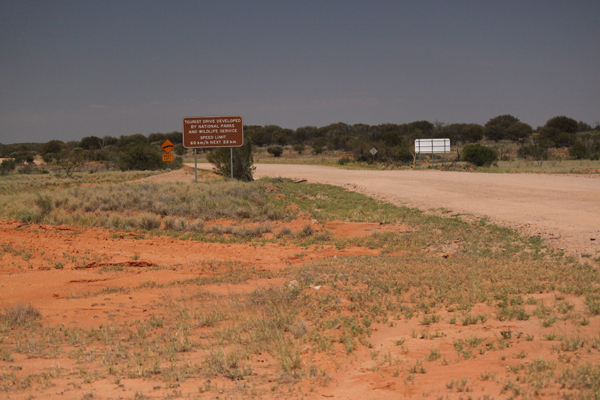 The last 20 kilometres to Cameron Corner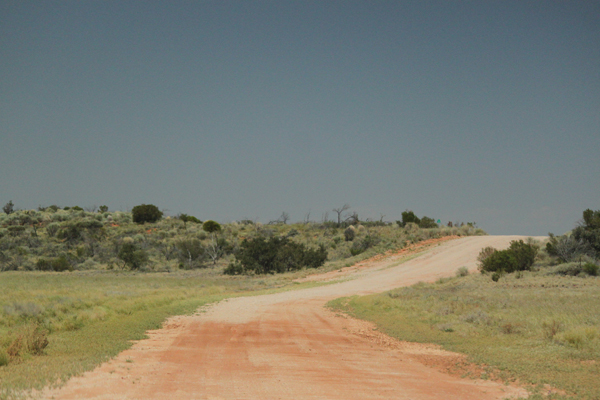 Over another sand dune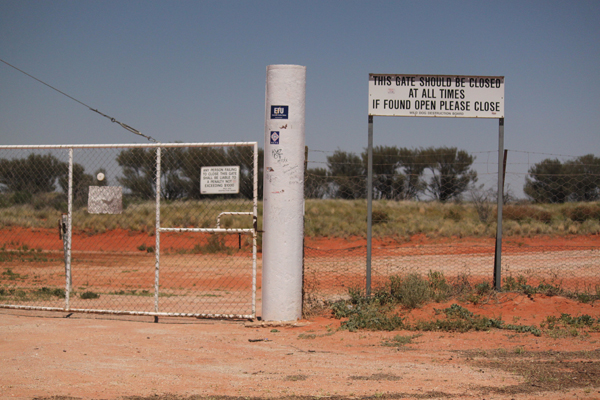 We have arrived at the corner, marked by the dog fence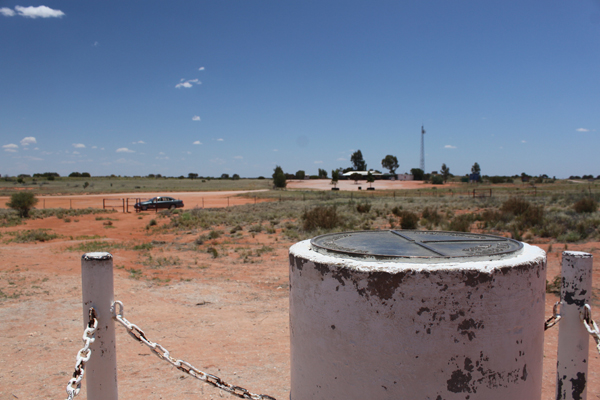 The official Cameron Corner marker with the very welcome roadhouse in the background