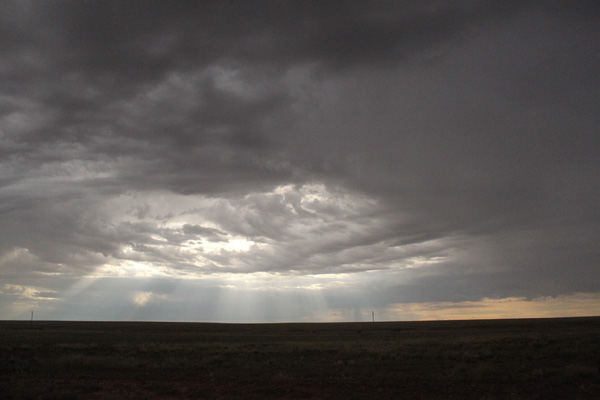 It's early January 2012, we're heading out from Tibooburra to Cobar via White Cliffs (after driving to Camerons Corner and the 'Jump up' country of Olive Downs. It's raining as we fill up at the remote settlement's corner store.
Uh! Oh? After seven fine days and 45 plus temperatures, the arrival of clouds is a worry, but not unexpected. Mavis who runs the store AND keeps the official weather data for Tibooburra, is not expecting a major downpour, and she should know!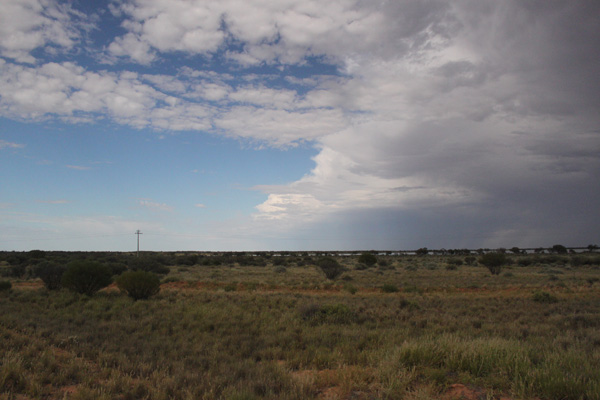 Nonetheless, we've been watching Weatherzone daily online for the past few months as we plan our trip to get an idea of how El Nina is impacting the roads including those into national parks that are routinely closed after 'half and inch' of rain to protect them from undue damage.
Should we hire a 4WD in Broken Hill or can we do it in our 2WD Holden? It all depends on the state of the roads, as in wet or dry.
After two days of predicted 1-5 mm of rain (at 10 and 20% probability) we are somewhat daunted by the forecast of 10-20 mm rainfall.
Why? Because we're heading south east and driving a Holden Statesman that is perfectly adequate on dry weather remote roads (been around Australia), but much less so after decent rains turn dirt into quagmire.
We're all too well aware that 25 mm can make the dirt roads impassable and lead to lengthy closures, and that doesn't take into account the washaways and dips that may be impassable for up to 24 hours until the flash flood subsides and the graders clear the flood ways.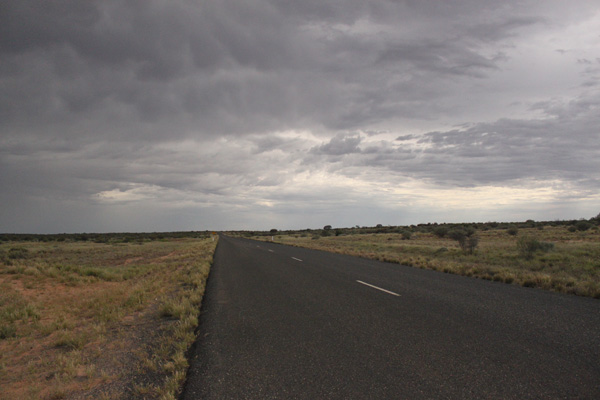 For city dwellers with little experience of outback roads, before setting out on a road trip in far western NSW, you need to know two things. Number 1, the state of the roads, especially if you are in a two wheel drive vehicle (are they wet, sticky, dry and/or passable (as in cut by flash floods)?.
And number 2, what's the weather forecast, as in could the road conditions change between setting out and reaching your destination, in our case White Cliffs, after deviating from the sealed/unsealed road that goes by the name of the Silver City Highway.
While short stretches of sealed road may have been constructed around homesteads and frequent washaways or flood zones, the greatest risk to people driving in remote areas of NSW are unsealed roads that become decidely slippery when wet.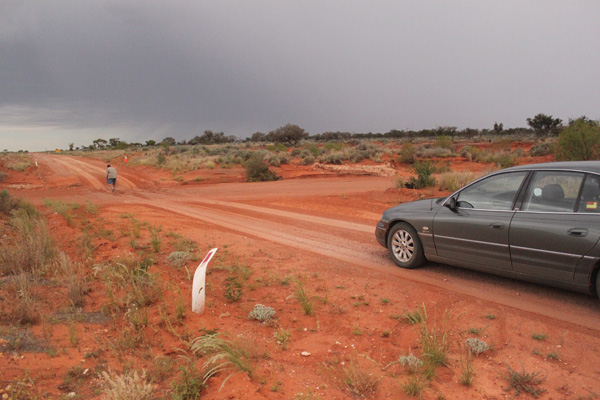 This crossing is no real problem for a 10 year old Holden Statesman (with a sump guard), but the slick road may be our undoing, especially as we are driving into rain showers.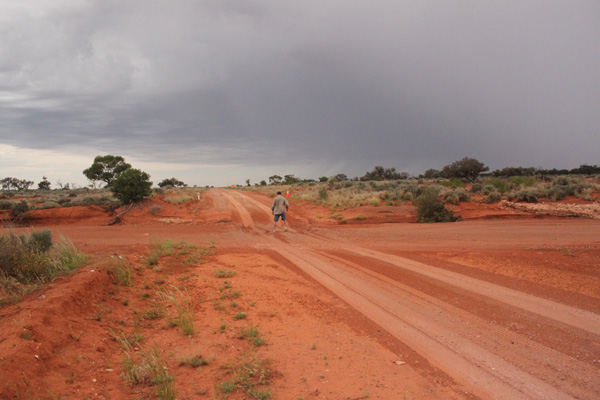 How much rain has fallen? Hard to tell, 5-10 mm perhaps, and already the road is starting to get greasy.
Our worst fear is coming across a creek bed that is running a bunker after a localised downpour in its catchment. Many inexperienced drivers come a cropper trying to barge their way through, oblivious to the risk of boulders on the floodway, let alone the force of the water.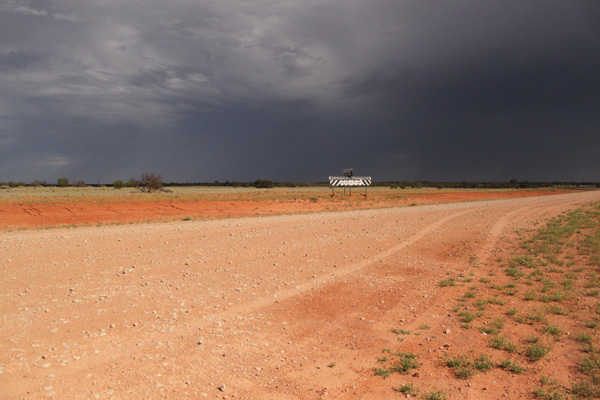 Our destination the mining settlement of White Cliffs, we are driving into heavier rain and the question is whether we will make it or be forced to pull up by the slippery conditions.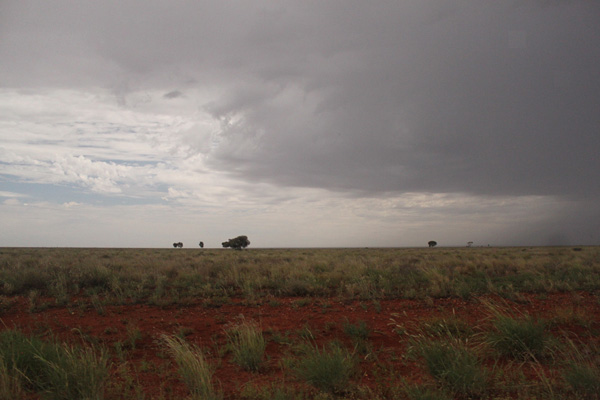 The tension rises over the last 40 kilometres of our drive. Behind the back of the car, unfortunately not captured in photographs, was a spume of red mud.
I kept asking my driver (my partner) if everything was OK, on which he assured me that the sedan was handling the conditions, so no worries.
Only after we made did it did he explain that things had got 'hairy'. The critical thing was to keep up the momentum and keep going on the increasingly greasy road. To stop meant getting stuck, and the ignomy of having to wait for assistance.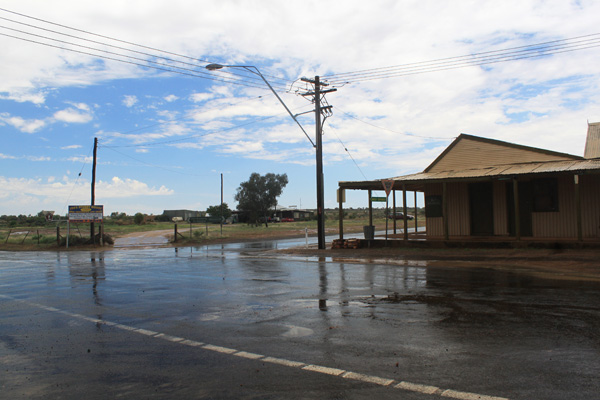 It is a relief to make it to the opal mining settlement of White Cliffs, the streets of which are running with water from the recent downpour.
Some 92 km north of Wilcannia and 286 km north-east of Broken Hill, as of 2006 census, the township had a population of 119 people!
A local boy takes advantage of the running gutters to float his thongs down the main street.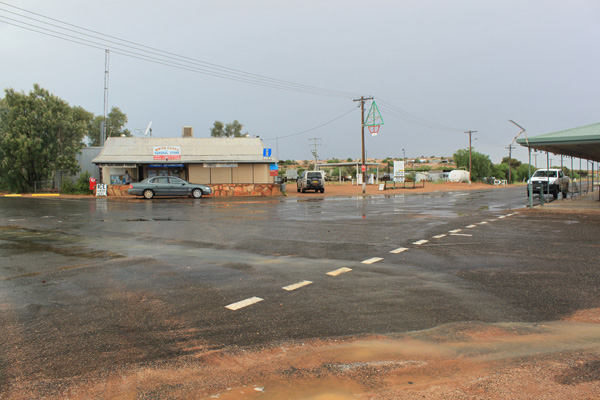 White Cliffs' reputation as a dry and dusty destination took a dousing during a La Nina summer.