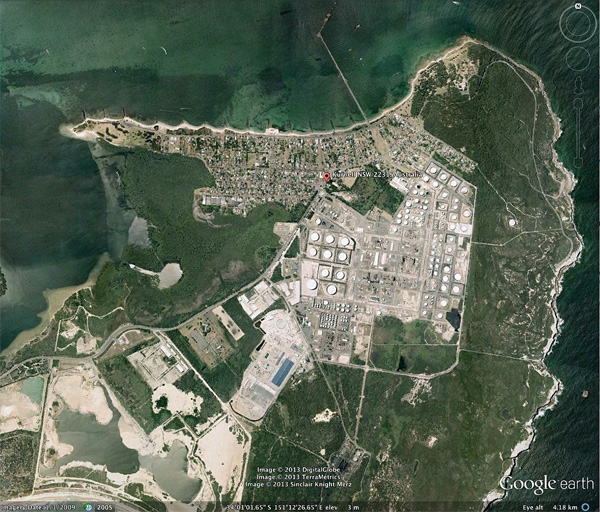 The Sydney Desalination Plant adjoins the Caltex refinery, with the distinctive ocean blue rectangular building an easy way to visually zoom in on the site from above. Credit. Google earth. Image 2013 Sinclair Knight Mertz.
One of Sydney's most costly but least visited 'attractions' is surely its contentious desalination plant. On the southern side of Botany Bay at Kurnell and in close proximity to Caltex refinery, the 45 hectare site is within a stone's throw of the first landing site of Captain James Cook and Co. in 1770.
Viewed in close up, the desal plant property is separated from the coast by scrubby dune country. Credit. Google earth. Image 2013 Sinclair Knight Mertz.
One year after the world's largest operating desal facility was mothballed in early July 2012, what's the state of play with Sydney's 'elephant in the room', or should that be a woolly mammoth?
On a drive by in the first week of July 2013, there were no proverbial mothballs in sight. Instead what's visible from the road is a large ultra modern facility with lots of pipes, tanks and high fences in evidence.
Not a mothball in site from the road.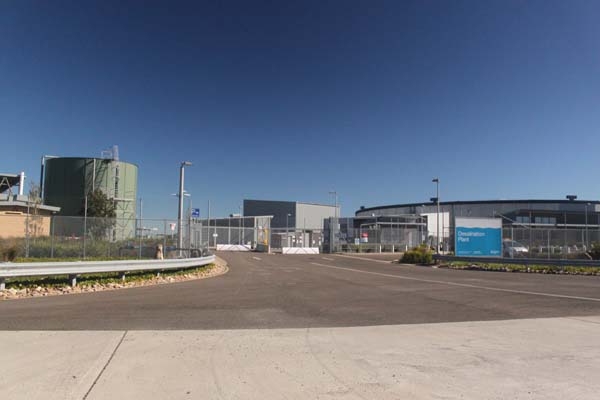 The neat and tidy main entrance to Sydney's desal plant.
According to its website, the Sydney Desalination Plant is capable of supplying '250 megalitres (million litres) of water a day or up to 15% of greater Sydney's current water needs'.
All very well, but the reverse osmosis plant hasn't been doing its bit in the name of supplying water for just over a year now. With Warragamba Dam now spilling on relatively regular basis, we are more likely to hear stories about threats to low-lying properties along the Nepean-Hawkesbury Valley than falling dam water heights and water shortages.
To locate the desal plant, zoom in on the rectangular blue building on Kurnell Peninsula. Credit. Google earth. Image 2013 Sinclair Knight Mertz.
The sobering facts are these. Opened in January 2010 at the cost of $1.8 billion, the Sydney Desalination Plant desal plant's capacity was rachetted down on 9 December 2011 from 250 to about 90 million litres a day.
And just why was the the desal plant's capacity wound back within two years of its construction? Storage levels in Sydney's traditional water supply (a system of eleven dams) reached 80% full, the trigger for the wind back. And in early July 2012, with the dam storage levels reaching 90% capacity, the Sydney Desalination Plant ceased its production of desalinated water.
The desal plant has been closed ever since, awaiting its own 'Lazarus' moment. But who knows when it will be 'taken out of mothballs' and once again convert salt water from the Tasman Sea into drinkable water?
In going down the road of commissioning a desal plant, have the 'powers that be' opted for the most cost-effective and appropriate insurance policy for Sydneysiders? How many years can it go without producing water and what is it costing NSW taxpayers on an annual basis to ensure that it can be readily switched back on if the dam levels drop below critical levels?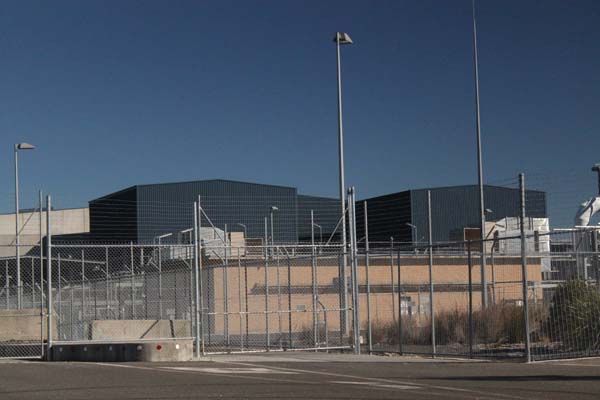 According to the desal plant's website, 'the total cost of constructing the desalination plant and pipeline is around $1.8 billion.' But that's not the end of it. As the website continues: 'This translates to ongoing capital costs, mainly to service the debt on the plant, of around $185 million per year.'
The bad news for householders, reflected in their water bills, is the revelation that 'these costs represent the cost of water security and are incurred whether or not the plant operates.' Gulp.
And there's more. According to the website, 'operating costs are around $73 million a year in the first year of full operation. This equates to around $35 dollars on a typical yearly residential water and wastewater bill.' And again, the website spells out that: 'Some operating costs are also incurred whether on not the plant produces water'. Hmm, so we pay through the nose whether the desal plant is operational or not.
Interestingly enough, NSW is not the only Australian state that opted for a costly quick fix to supplement its dwindling natural water supply during a time of drought. Queensland, Victoria, South Australia and Western Australia also bought into the technology when a variety of other options were available.
How are these others all faring? Constructed in 2006, Perth's Kwinana plant, Australia's first, is still operating, supplying water for the city's metropolitan area.
The news is less rosy for Queensland's Tugun desal plant which opened in 2009 at the cost of $1.2 billion. It was closed in early 2011, along with other smaller QLD desal plants. Why? The dams were full to overflowing and Queenslanders' water bills were going through the roof.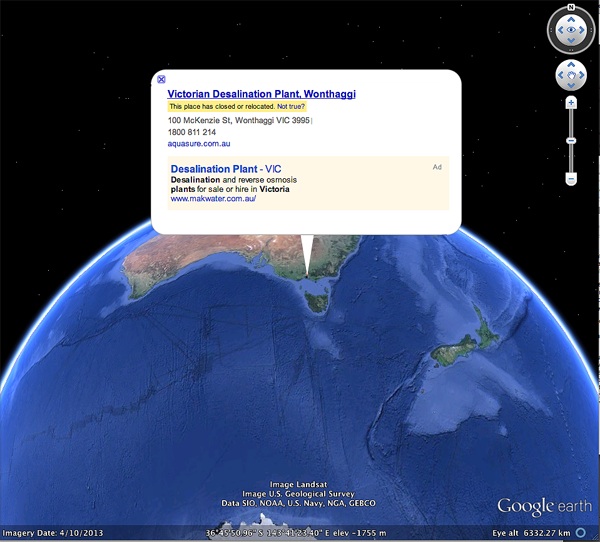 Victoria's Wonthaggi plant, constructed at a cost of $6.1 billion, closed in October 2012 on the day it was commissioned. The then Premier Baileau stated: 'the full cost of the Wonthaggi plant over 27 years would be as high as $23bn'. But the fact Melbourne's dams are at 80 per cent will mean the desalination water may not be needed for many years'.
And in South Australia, despite its desal plant having being closed down and 'not being needed until the next drought, SA Water has already signed a two-decade-long deal that forces it to pay a minimum amount every year for green electricity. The cost will add to water bills, which have already increased on average from $300 a decade ago to almost $900 this year.'
Exactly who's responsible for this proliferation of mothballed desal plants? Presumably its a combination of lobbyists and politicians, the former hoping to sell desal technology and the latter wanting to be seen as coming up with a quick fix to dwindling dam levels within their three year or so political term.
What are the alternatives?
It's not hard to find long-term solutions to shoring up water supplies for Australia's capital cities and regional centres. And there's nothing new about the associated supply and demand issues.
On the supply side (rainwater, that is) we have:
capturing stormwater run off for domestic use
using recycled water as 'grey water' for flushing toilets and other non-drinking functions
treating waste water and using the end product for non-drinking watering purposes.
On the demand side, we need to permanently change consumer behavior by persuading them to reduce their water usage and waste.
Sad to say, but the commissioning of the Sydney Desalination Plant nullified decades of community awareness and environmental education programs designed to reduce water usage and stormwater pollution.
In Sydney, with the demise of the Water Wise program, Sydneysiders were encouraged to relax their vigilance about conserving water.
There's a good reason for that, especially in recent years. The more water we use, the higher household water bills and the more we pay. That's cynical, actually.