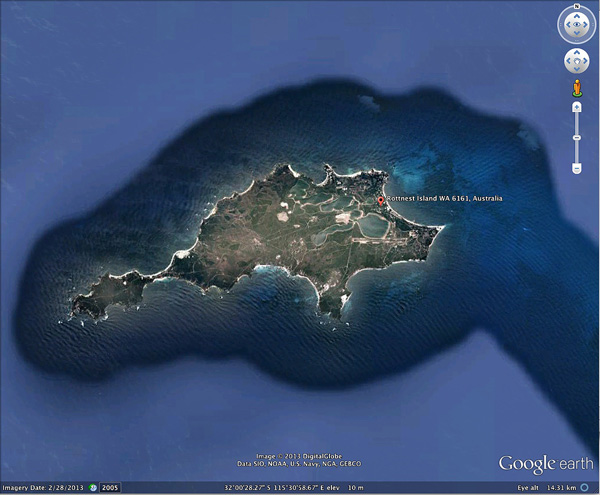 For anyone planning to spend a few days in Perth, Rottnest Island is well worth a visit. Measuring 11 by 4.5 kilometres, it's an 18 kilometre voyage off the mainland, with daily ferry services departing from Perth and Fremantle.
Why take the time out for a day trip to an island known as Wadjemup - Place across the water - by the Noongar people? Ask the locals would be the answer. The island's base population of 300 apparently swells to around 15,000 during the summer holidays. That's because as Western Australians flock in from Perth and beyond to this iconic island that 7,000 years ago was joined to the mainland when world wide sea levels were lower.
On top of the list would be the island's idyllic unspoilt sandy beaches, wildlide spotting, no vehicles status and legacy of historic buldings and installations that 'speak to' Western Australia's rich history.
First things first, how did the island get its name?
When Dutch seafarers swung by the coast of Western Australia in 1696, they mistook its midget macropods for giant rats. Not surprisingly they named the island 'Rotte nest', from the Dutch word rattennest, meaning rat nest.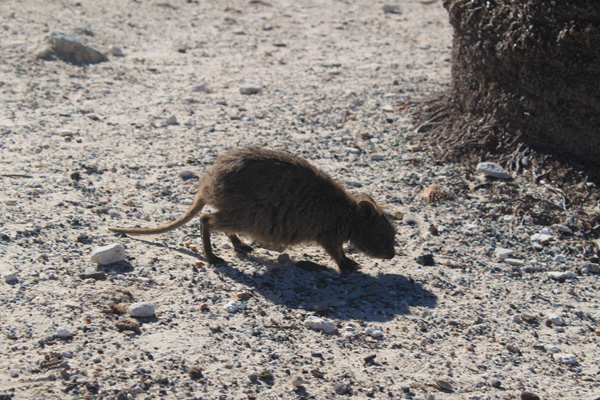 The so-called giant rat, better known as a quokka (indigenous for gwaga), was one of the first Australian mammals seen by Europeans. The Dutch mariner Samuel Volckertzoon wrote of sighting 'a wild cat' on Rottnest Island in 1658.
'You're unlikely to spot quokkas because they're nocturnal,' one of the ferry hands told a visitor. Perhaps he'd barely set foot on Rottnest. For there was no shortage of these minnie macropods, in all shapes and sizes, wandering around in broad daylight or sleeping by the side of the road with their head tucked under to block out the light.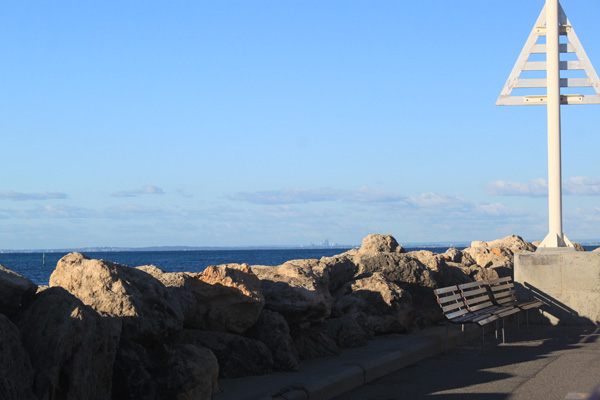 Quokkas and lizards aside, it was immensely satisfying to look back to the mainland and a distant Perth from the laid back destination of Rottnest.
Once on Rotto, what's there to do? The majority of daytrippers don't get much farther than Thomson Bay where there are numerous things to see and places to hang out, including historic buildings, cafes, bars and the like. While the island is 'offically' a no vehicle zone, regular bus tours transport tourists around the island to sites of interest.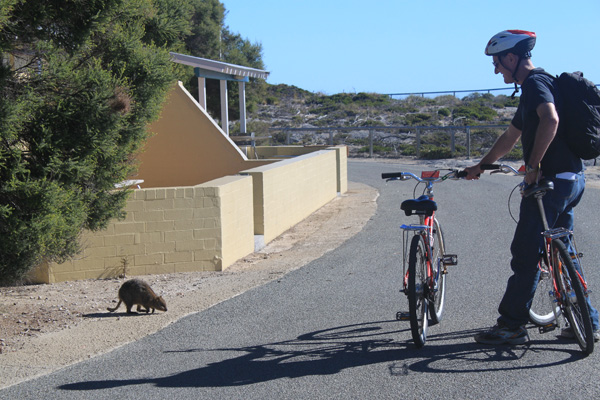 The most enjoyable way to get around the island for the fit is on a bike, with a number of ferry services offering a bike and helmet hire as part of their package.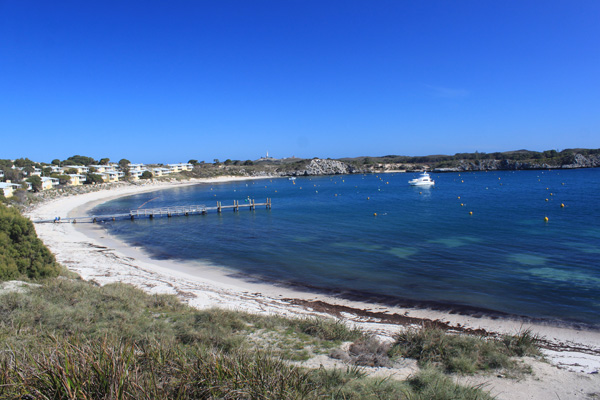 Circumnavigating the limestone island is an exhilarating ride, and the best way to fully appreciate its beautiful beaches. While they may be crowded in summer, in late May they were almost deserted, despite the balmy 20-22 degree celsius temperatures and a glorious wind-free day.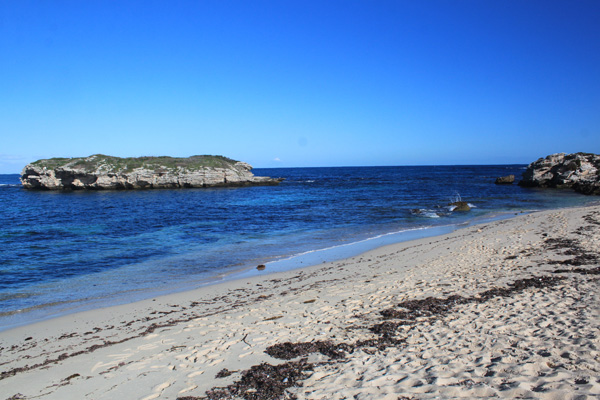 Each beach has its own distinctive scenery, lazy swell and fair share of seaweed.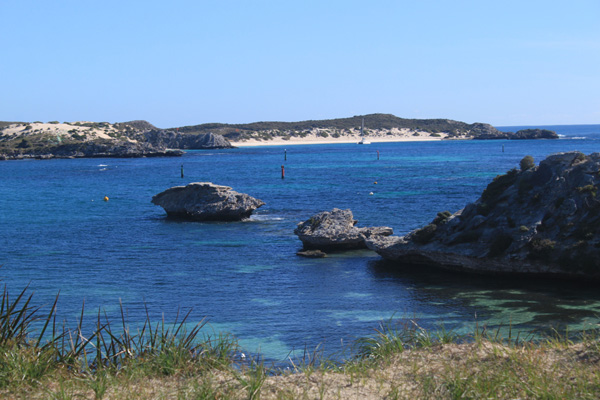 What's striking about the beaches is the clarity of the water, aqua shallows, and lack of pollution.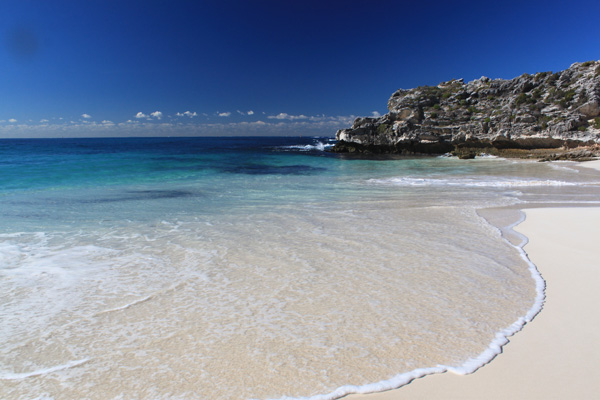 Dividing the beaches are distinctive-looking limestone cliffs, each weathering and eroding in thei own time and shape.
As we cycle around to the western end of the island, the surf picks up, and we come across lighthouses erected to warn off coastal shipping.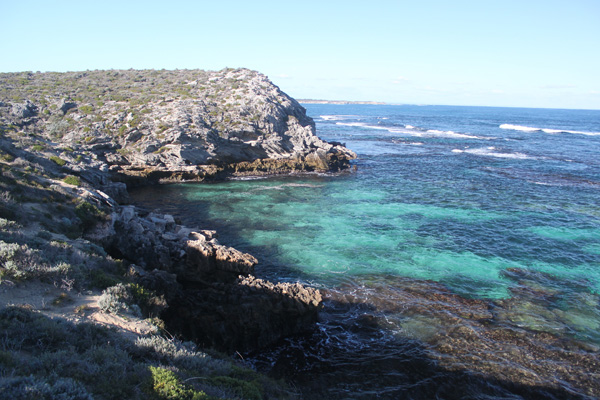 After a round island cycle of some 20 or so kilometres, we're back at Thomson Bay, regretting that we hadn't booked the 9.30 am ferry. There was so much to see that we missed out on, including the historical museum and military emplacements.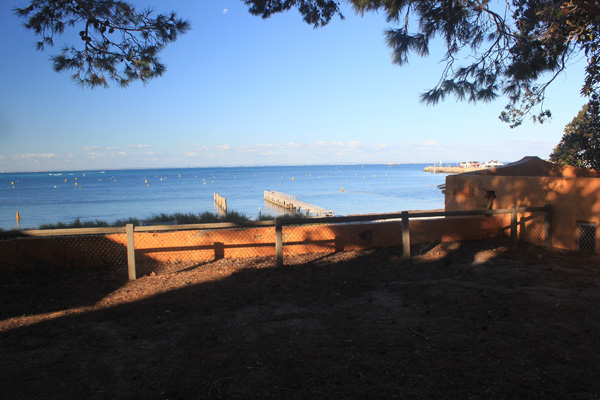 The old harbourmaster's precinct and wharf reminds visitors of the role played by public servants based on Rotto as they guided vessels into the port of Fremantle.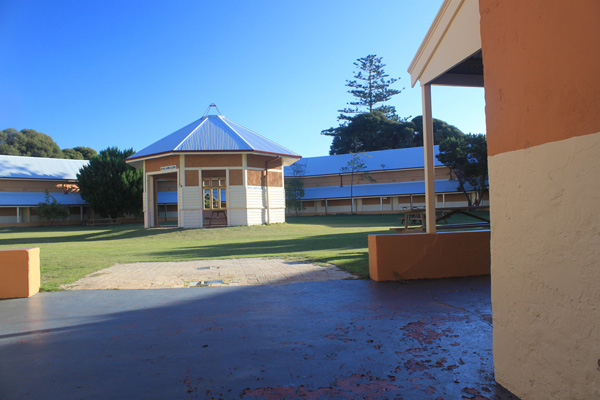 Here is the 'establishment', a building that served as a prison for Indigenous people.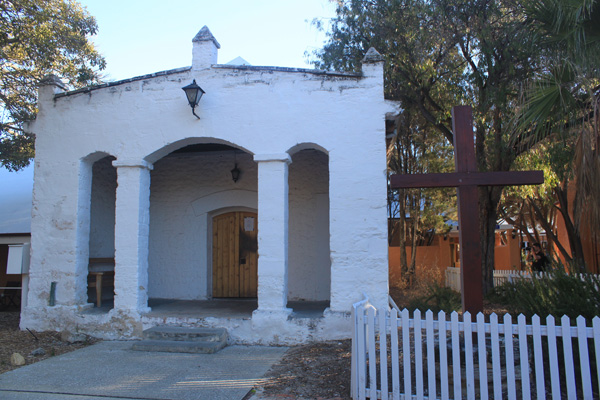 And a place of worship for islander people.
This Google Earth 'grab' helps to explain the deep affection that Perth-ites and Western Australians feel in general for Rotto. Deep down, they are connected after all, since the island of rats nests is an outer western suburb of Perth, separated not be freeways or tollways but by seaways.