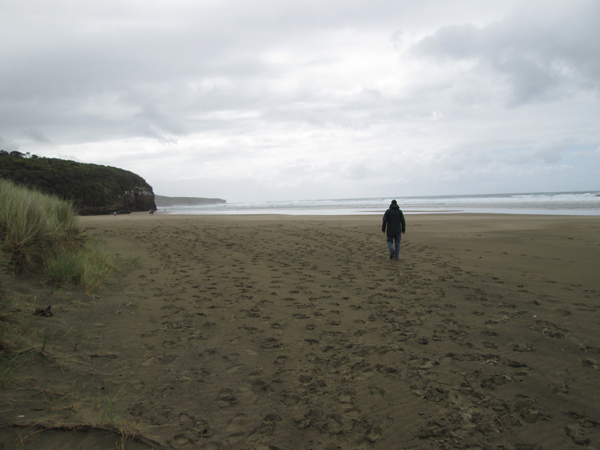 It may have been an unseasonally cold, wet and windy day but the number of footprints on the beach leading to and from the Cathedral Cave attest to its appeal, regardless.
Located on private land, it's a 20 minute or so downhill walk through native vegetation to reach Waipati Beach, and another 10 to reach the cave entrance, depending on your speed of walking.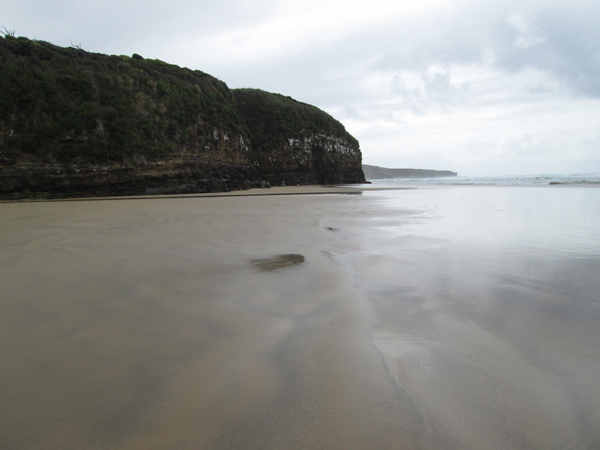 It was refreshing to access a long scenic beach that was seemingly untouched, with no sign of settlement in sight, looking north or south.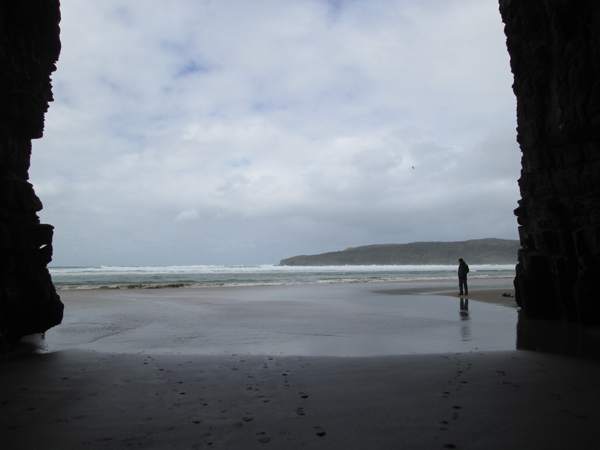 At its vaulted entrance ways, it's easy to see why the cave was named for its resemblance to the interior of a cathedral.
The cave's key claim to fame, howver, is its length rather than its height.
At 199 metres in length, Cathedral Cave is one of the 30 longest sea caves so far known to humans, according to the pamphlet that came with the entry fee. Importantly, its impressive length is achieved by adding up the length of the two separate tunnels that eventually joined up to create an exaggerated 'dog leg' angled sea cave.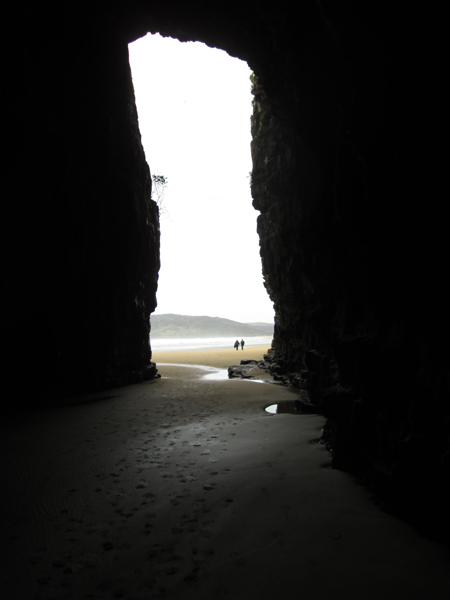 Just how did the sea cave form in the first place?
Throw away all misconceptions about water dissolving calcite in a typical limestone cave formation.
Firstly, the headland has been 'carved' out of a 160 million year sandstone, so dissolving calcite is out of the question. Instead this joined up sea cave is the work of the relentless pounding of waves, never more so than during heavy seas and at high tide.
So why should not one, but two, caves form in close proximity in this headland? The waves work on weak points in the solid rock, eating into vertical fractures which expand over time, to the point where blocks of sandstone periodically collapse, in the process adding to the height of the sea cave itself.
Keeping in mind how the cave formed in the first instance, and continues to be shaped by the mechanical percussive impact of waves at higher tides, it's not surprising that visitors can only enter the caves during lower tides.
The owners regularly update the cave access opening times on the entrance gate and close the road once it's no longer safe for tourists to access the sea cave.