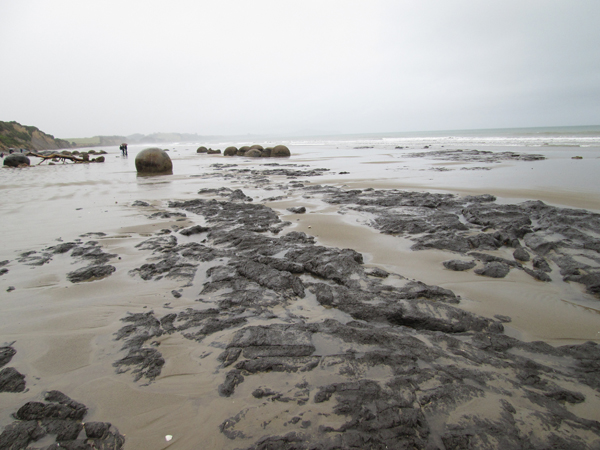 Koekohe Beach, between Moeraki and Hampden, with the clusters of boulders in the background
It was an uncharacteristically cold summer of sorts on the South Island of New Zealand (at least from mid December 2013 to early January 2014 when we were there). 'Sunlight spotting' might have been off the agenda, but with the right gear, it was well worth braving the cold, rain and wind to explore some of the geological oddities of the south east coast.
High on the list of natural 'eccentricties' we came across were the four million year-old Moeraki Boulders littering Koekohe Beach, one hour's drive and 75 km north of Dunedin.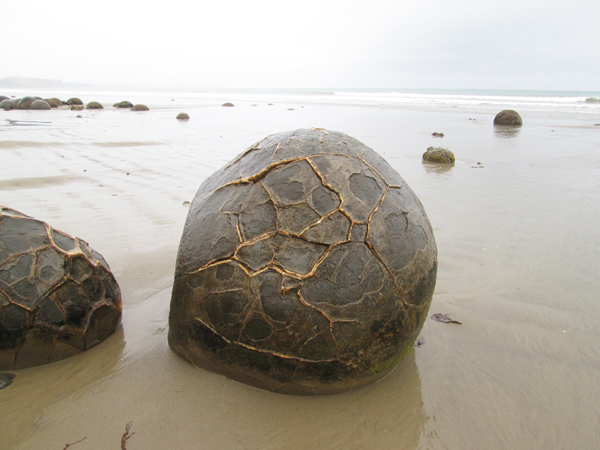 These boulders are massive, with some measuring 2.2 metres in diameter, and it's not surprising that they are sometimes described as 'turtle backs' because of the peculiar surface pattern.
So what's their origin? According to the local Maori, the boulders were the physical embodiment, writ large indeed, of the rounded food baskets and water gourds so vital to the success of the long sea voyages that eventually brought them southward to NZ.
To the geologist, these concretions owe their existence to the underwater accretion over millions of years of layer on layer of crystalised calcium carbonate around an initial nucleus within a thick bed of muddy sediments deposited in an estuary. A plant fragment or speck of shell might be all it took to kickstart the chemical process that 'spawned' the boulders over time. And that's where the mudstone cliffs below fit into the picture.
Where did the giant boulders come from? There's a good reason that the boulders lie close to the mudstone cliffs and it's got nothing to do with being washed up by big seas. The geological treasures were, and continue to be, released as the sea continues to eat into and erode the softer mudstones, contributing to the retreating cliff line.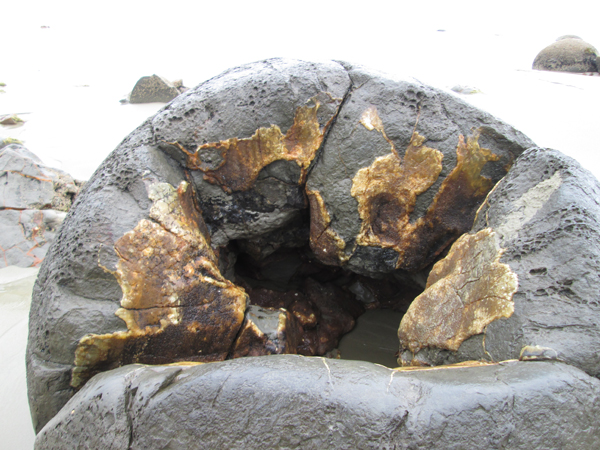 As the crystallisation of the calcite continued, the surface of the concretion hardened and the insides cracked. Over time, two different types of calcite crystallised in the cracks, forming the unusual 'turtle back' patterns.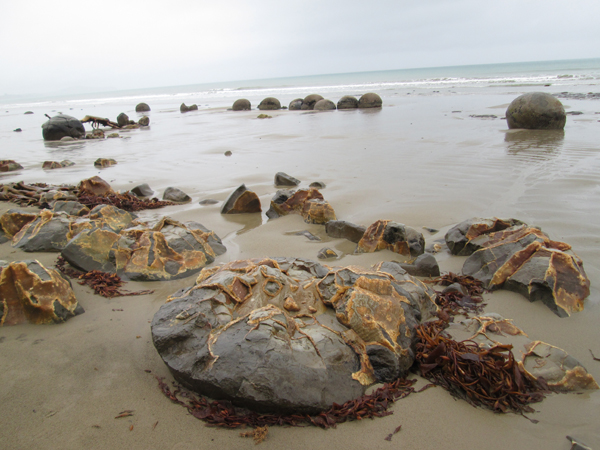 If they were four million years in the making, how many more have they been in the breaking up, one wonders. A number of the once spherical boulders lie 'shattered' on the beach, their remains of their 'insides' revealed to the elements.