It's 6.30 am on New Year's Day and teams of garbage cleaners have been hard at work since 4.30 am clearing bags of rubbish from the foreshores of Sydney Harbour. The photo above shows a relatively clean harbour foreshore compared to scene that must have greeted the garbage collectors on arrival.
Every year it's the same. Once the fireworks are over, the revellers walk out on the piles of rubbish they've generated throughout the day and night.
What were they thinking? Very little clearly, certainly not how thoroughly they've trashed the pristine foreshore that afforded them so much pleasure and entertainment during the long countdown to 2015.
Sure they've got excuses. They're tired, in some cases wasted and hell bent on trying to get home (if only the trains are running). But what the heck! At what stage does personal responsibility kick in, as in act local, think global? Or is that passe?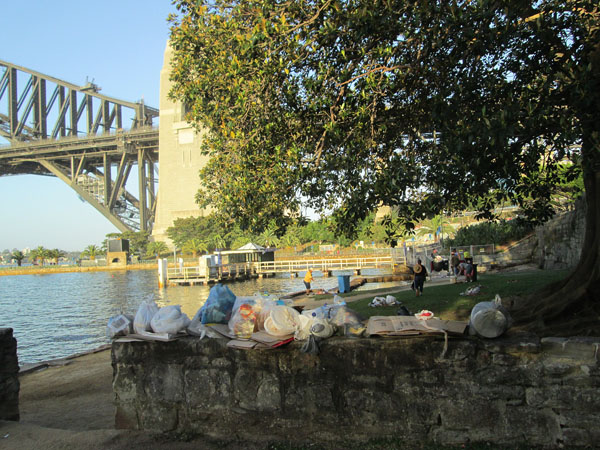 Surely there's a way to encourage visitors to our shores, many of them interstate and international tourists, to carry out what they carried in, even if it's only a 30-50 metres metres or so as they make their way to the trains.
Why not have a sizeable garbage receptable area, complete with recycling options, at the entrance and exits to the fenced off areas. Why not employ people to walk through the crowds throughout the day a) collecting rubbish and recyclables from the punters and b) encouraging them to bin their waste after the event as in do their bit for the environment?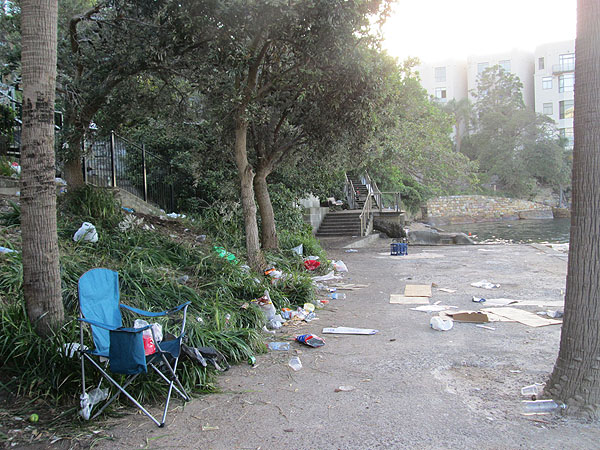 It's not just bottles, cans and food that's dumped. Invariably there are chairs, tents, blankets and all manner of gear.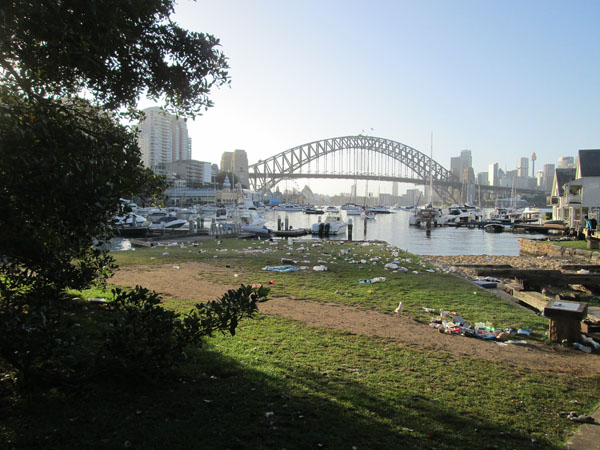 The morning after is not only a depressing sight but potentially a waste of recyclable resources that unnecessarily end up in landfill, presumably impacting the City of Sydney's KPIs when it comes to diverting waste from burial. My apologies if the City of Sydney instructs their contract waste collectors to sort the recyclables from the garbage.
Regardless, by allowing a 'trash the joint' mentality to prevail, someone has to cover the cost of collecting and sorting all the rubbish generated by NYE in the first instance. Is that the ratepayers?
Even more depressing is the notion that at least $6.6 million (going on 2012/13 figures) was spent on a total of 20 minutes of fireworks at the end of a very long wait. That's a lot of money and no doubt Tourism Australia would say it's well spent for the amount of publicity and tourism NYE generates worldwide.
But here's a thought for 2015. The Brown Family from Launceston, Tasmania mounted a petition to the City of Sydney in 2014, asking them to cut the fireworks back from 20 minutes to 19. Why? At the rate of $330,000 per minute of fireworks, the family advocates diverting that $330,000 to people who really need it, including those experiencing severe poverty. Here's the link: https://www.change.org/p/city-of-sydney-council-cut-sydney-s-new-years-eve-fireworks-by-1-min-for-the-cause-of-the-poor
In setting up a petition to the City of Sydney, Mark Brown argued " . . wouldn't it be great if during that Pause for the Cause minute, we at the beginning of a new year can stop and count our blessings and remember those less fortunate than ourselves?'. In his opinion " . . . in that sacrifice of ONE MINUTE of glitter and noise we will literally be saving thousands of lives around the world, where 20,000 people die daily simply because they do not have access to clean drinking water.'
Worthy sentiments indeed!