Tourists queuing to board a catamaran heading out to the reef
To visit or not visit the Great Barrier Reef (GBR)?
That's the question for time poor cash conscious Australians on a mission to experience the breadth and depth of their wide brown land over time, including iconic offshore islands and reefs.
For some would-be tourists, experiencing the GBR first hand is becoming increasingly important before it 'gets wrecked', so to speak. Concerns about accelerated coral bleaching, ongoing impacts of the Crown of Thorns Starfish and dredging at the Port of Abbot Point just north of Bowen are a wake up call for those of us who've put off travelling to Far North Queensland for far too long.
So what's the reef-going experience like in 2016?
From the get-go, in short it's highly controlled, especially for the majority of tourists heading out to well known destinations on the inner and outer reef.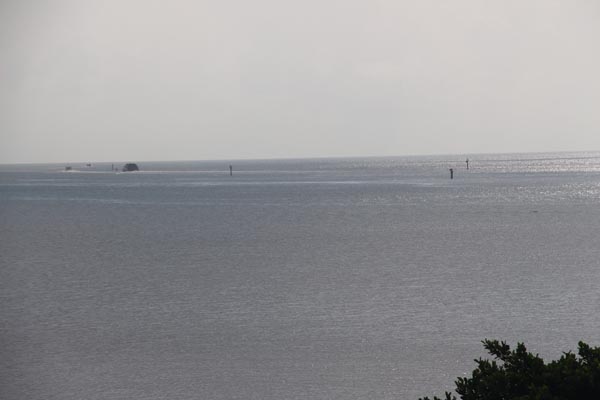 Dozens of tourist vessels depart and return to destinations such as Cairns, travelling along designated shipping routes
Most tourist vessels head out from Townsville, Cairns and Port Douglas along well established navigational entrances. This is understandable as such shipping routes provide safe passage through a potentially treacherous underwater 'hazard' zone, especially important at low tide.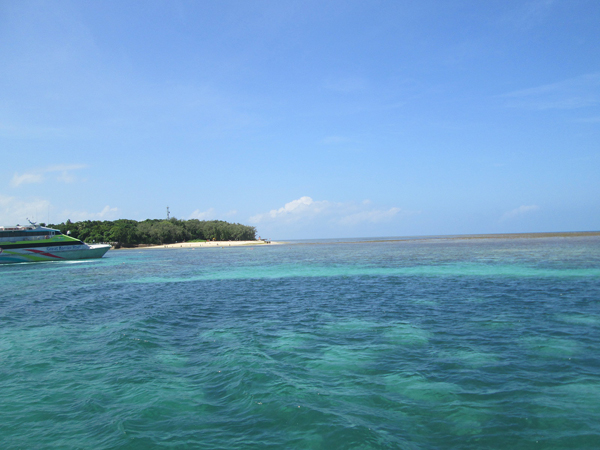 Green Island is a popular destination and the underwater coral is clearly visible from the catamaran
For travellers heading for the inner reef's Green Island, a rainforest covered coral 'cay', the boat trip is around 27 kilometres out and an hour or so each way.
For those keen to travel to the outer reef, it's a two hour trip each way, a total of 4-5 hours travel all up if you decide to 'boat it' each way.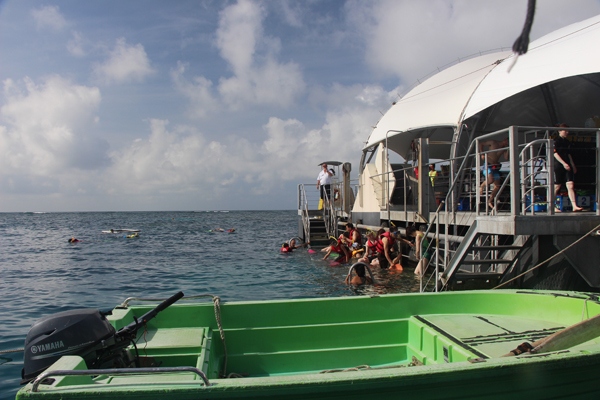 Unlike the Green Island experience, visitors to the outer reef moor alongside a fully equipped floating pontoon, on one side of which is a designated snorkelling area
Once you arrive at your island or reef of choice, your on-coral experience is tightly controlled for a number of key reasons, including visitor safety.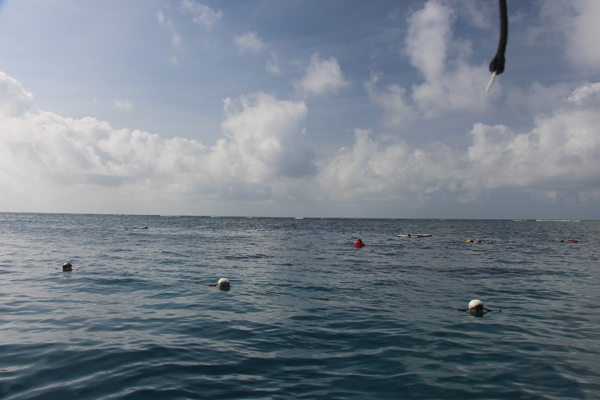 Floating buoys mark out the area that you are allowed to explore from the surface and you can clamber onto anchored platforms if you happen to get tired
The ultimate irony is that the area you get to flipper back and forth across is such a tiny 'sliver' of a vast coral reef that extends north to south some 2,300 kilometres. And in some ways it feels cramped, especially if lots of others have donned flippers and snorkels at the same time eg before or after the buffet lunch!
A chopper's eye view of the snorkelling area from the air
For tourists beyond snorkeling or hiring a helmet (dry hair) mobile diving device, the choices are a short trip from the fixed pontoon in a glass bottom boat or a semi-submersible vessel, both of which stick to prescribed routes.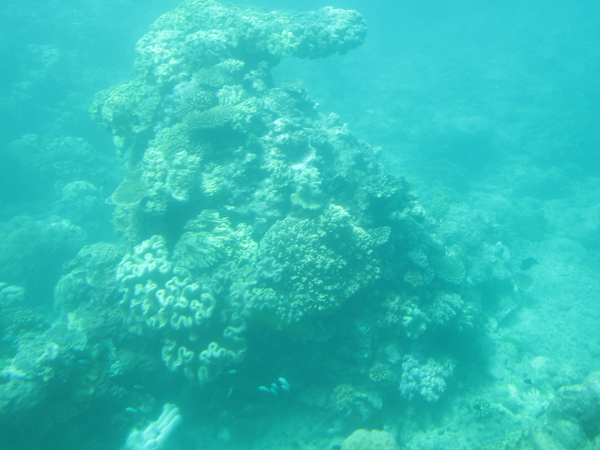 The photos I took of the underwater wonderland through the thick windows of the semi-submersible ended up with an aqua blue cast
The semi-submersible provides a glimpse of the underwater coral and fish through its glass windows, with some seats a lot better than others. Best to avoid the seats looking out under the propellor as it's a bit noisy in this vicinity.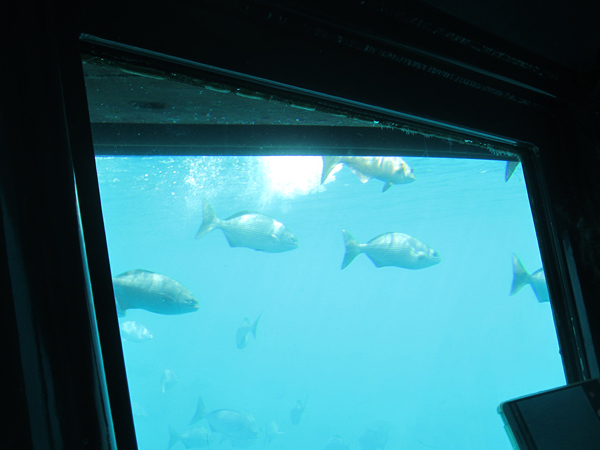 You get to see plenty of fish swimming around the reef
Typical glass bottom boats give views of the reef below
From our limited one off experience, the key to a satisfying GBR experience is to mix it up when it comes to what you pay for.
Getting wet is part of the equation as in snorkeling or scuba diving if you are up to it. That's because the view of the corals from the deck of the catamaran (or pontoon it moors against) depends on the stillness of the day and degree of turbidity.
The helicopter landing pad is a short boat trip from the floating outer reef pontoon
It's also worth considering flying one way to your reef of choice, ideally the flight back at the end of a longish day.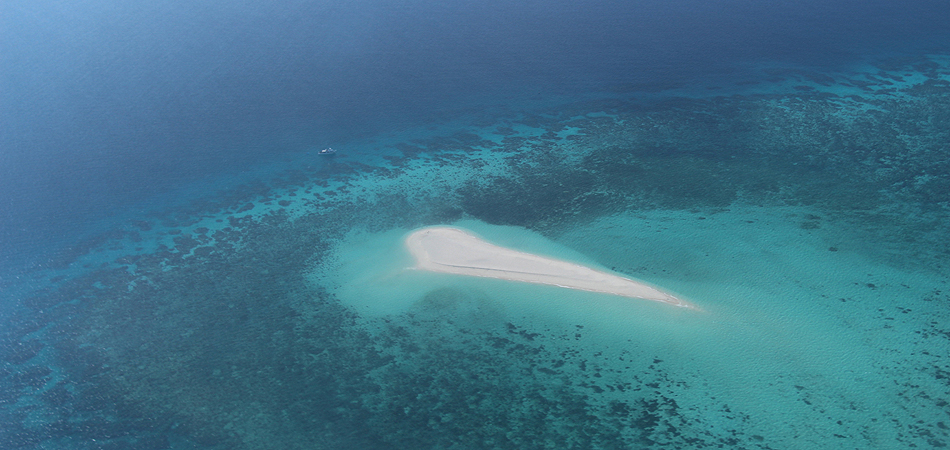 An outer reef coral cay we viewed on our return flight
Alternately take a short flight over the Great Barrier Reef from the coast. Even a 30 minute flight gives you a much better appreciation of the extent and variety of the coast hugging barrier reef.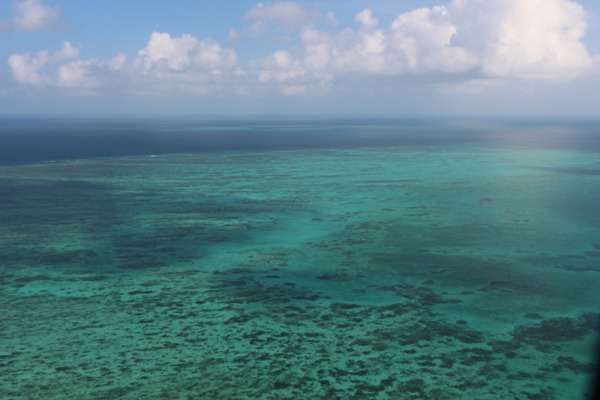 PS: Next time I visit the reef I'll be taking along some kind of underwater camera to capture the colourful coral and fish species I was gliding over.